As the days grow longer and the mercury rises, thus begins the time of the year for backyard soirees, lovingly tending to a garden, and simply enjoying a refreshing drink while reading a book from a porch or deck. Lounging by a pool. Watching fireflies and fireworks. The ubiquitous scent of barbecue, and the sound of grills and smokers across the country roaring back into commission. In spite of the extra hours of light, eventually the sun must set. However, your outdoor activities can carry on into the night with the addition of strategically placed outdoor lights.
Outdoor lighting for your home can serve to illuminate a path, enhance the overall exterior design and add curb appeal, accentuate landscaping, and provide additional security. Outdoor LED lights at Cocoweb come with a variety of customizable features, including dimmable capabilities, motion sensors, and photocell sensors to turn on light fixtures only at night. Our lights are Dark Sky compliant, which is particularly pertinent in regards to outdoor lighting, and refers to lighting that is designed to illuminate the ground below the fixture, rather than the sky. It exists to reduce light pollution which washes out starlight in the night sky, interferes with astronomical research, disrupts ecosystems, and has adverse health effects.
Cocoweb utilizes Eco-friendly powder coated finishes for our barn post light collections for weather-proofing and a beautiful, lifetime finish that prevents cracking, chipping and fading over time. The LEDs are enclosed in a clear diffuser on the underside of the shade, protecting them from the elements, and have an average lifespan of 50,000 hours of light. Our fixtures come pre-installed with the LED array for durability and convenience. The LEDs produce a color temperature of 2700k; a soft, warm yellow-orange hue that is visually more pleasant for those particularly sensitive to bright lights at night.
Strategically placed lighting around your home provides an extra layer of safety and security. Installing lighting with motion sensors deter criminal activity as well as uninvited wildlife into your yard. Conversely, illuminating areas along paths and steps is an added layer of safety for you and your loved ones. If you have an outdoor kitchen or barbecue area, wall mounted sconces used as spotlights are essential.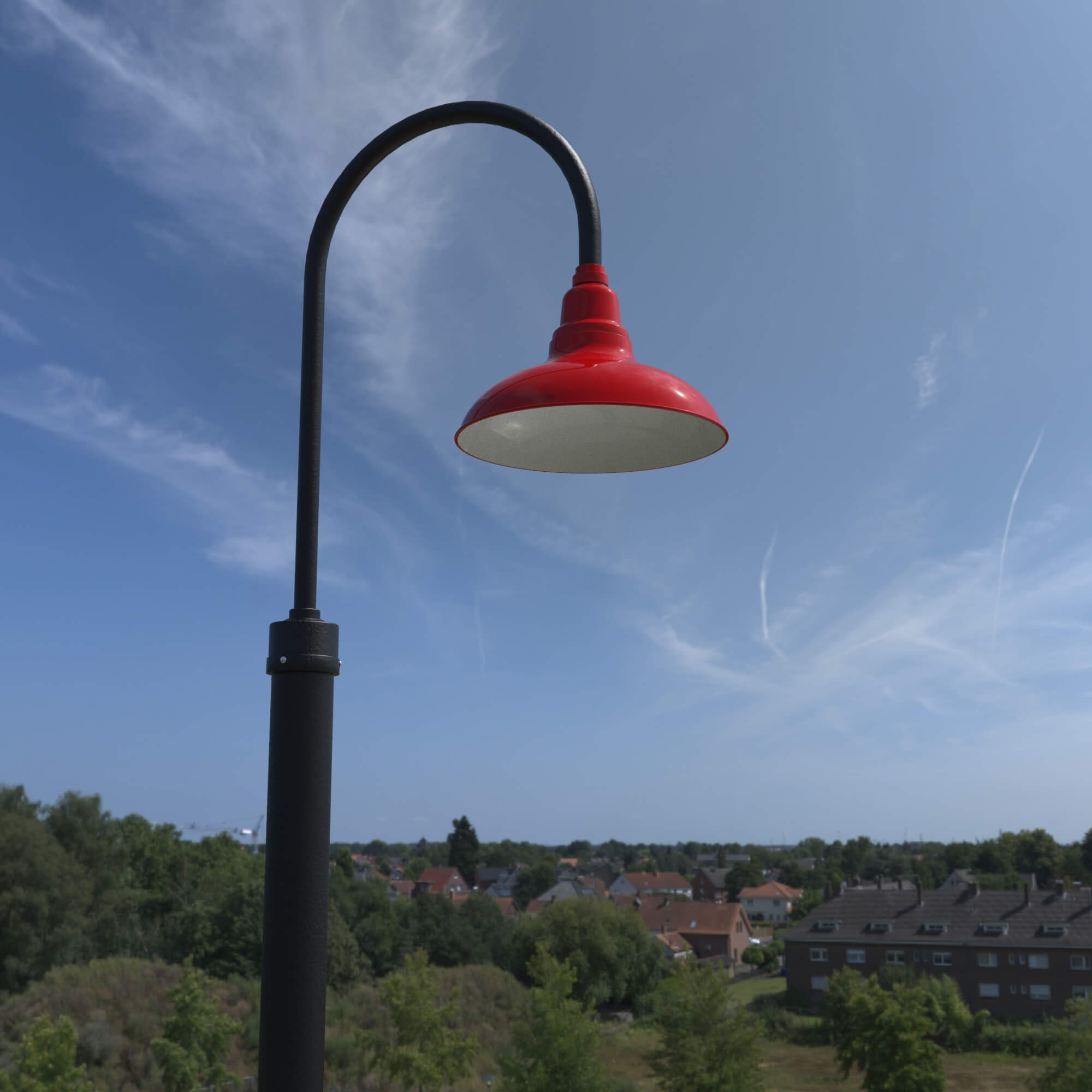 Post Lamps
Ideal for a large backyard or long pathway, post lights are much larger and more visible than other types of landscape lighting, which often sit much lower to the ground, or are oftentimes completely hidden, as with well lights. Post lights can be effortlessly incorporated into a garden's design, or stand out and frame a long driveway or walkway. Surrounded by hedges or a robust flowerbed in full bloom, a tasteful post light can be utilized as a centerpiece in a yard. Several post lights placed around a fountain, statue, or other focal point create a particularly striking scene.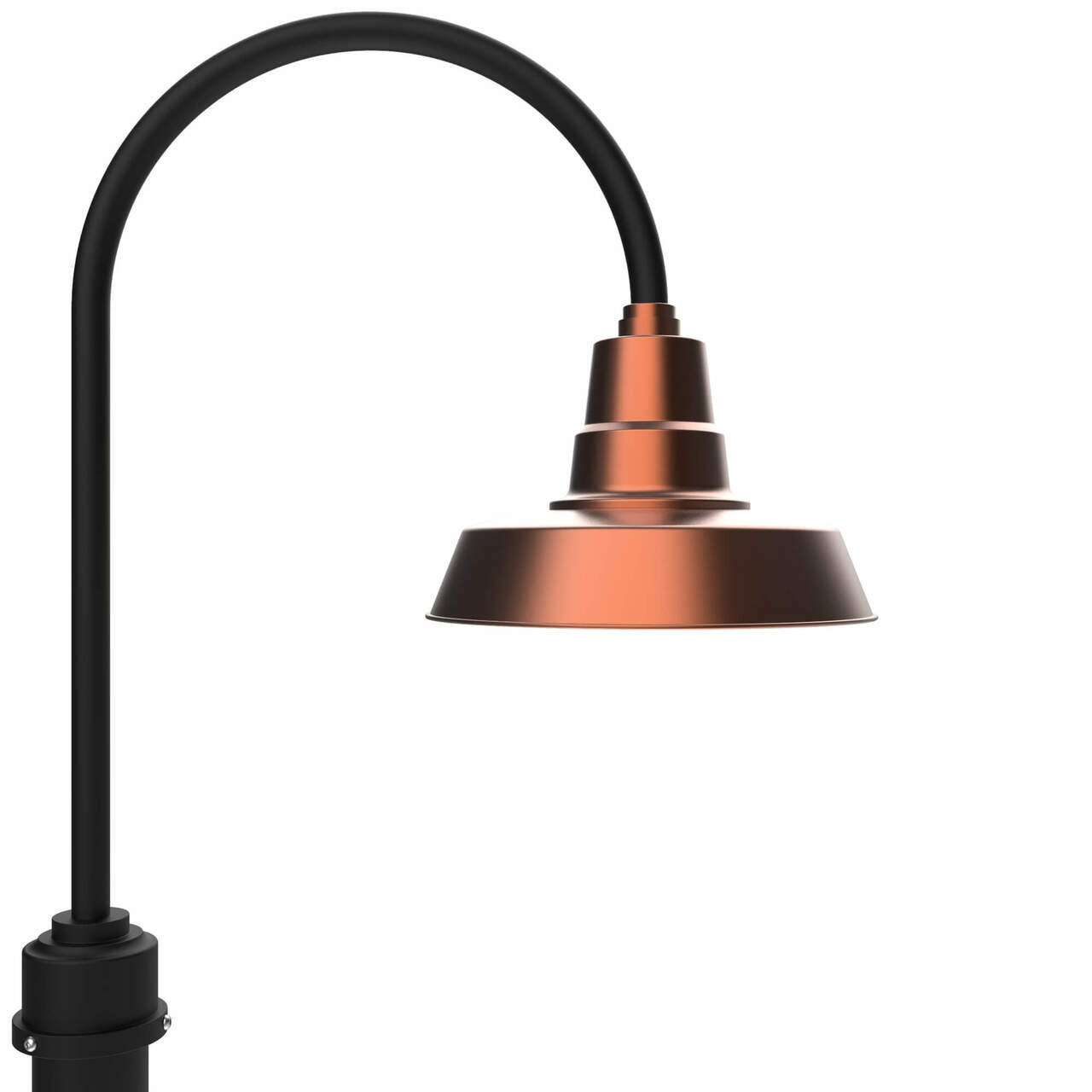 Customizable Oldage LED Light Post with a Solid Copper shade finish.
Our Oldage Post Lights are designed after the traditional pole lamps used for farm and landscape lighting across America. Updated with our patented LED technology, these lamp posts are available with 12", 14", 16", 18", and 22" shade sizes, 8 feet and 11 feet heights, with finishes in black, matte black, cobalt blue, cherry red, vintage green, galvanized silver, mahogany bronze, solid copper, and solid brass to coordinate with your home's design.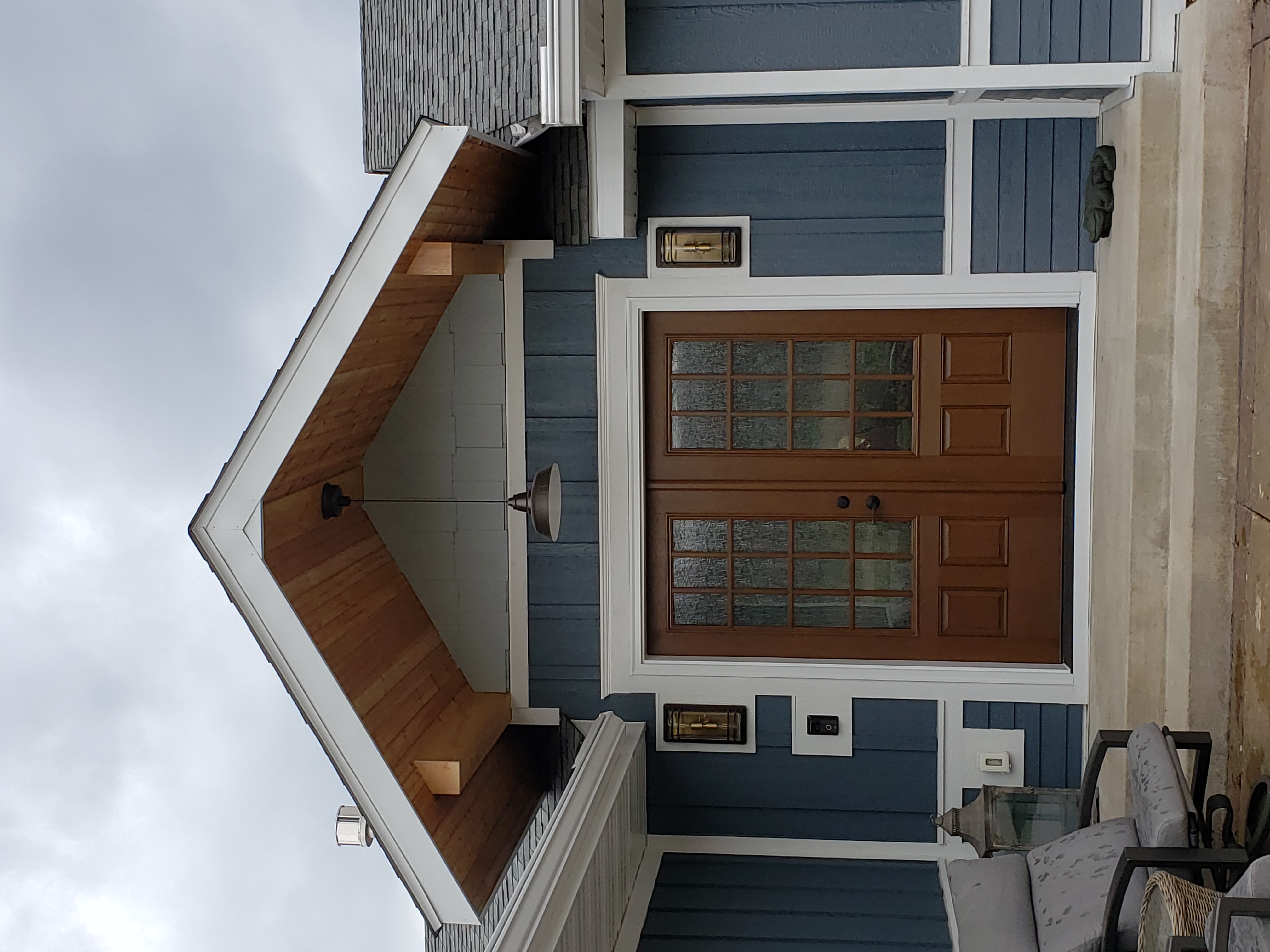 Ceiling Lights
Hanging or pendant lights are ideal for front entryways or above an outdoor seating area, secured to the ceiling of a gazebo, greenhouse, or pergola. They create a more formal, elegant look to extend your interior and well as your personal style to the outdoors.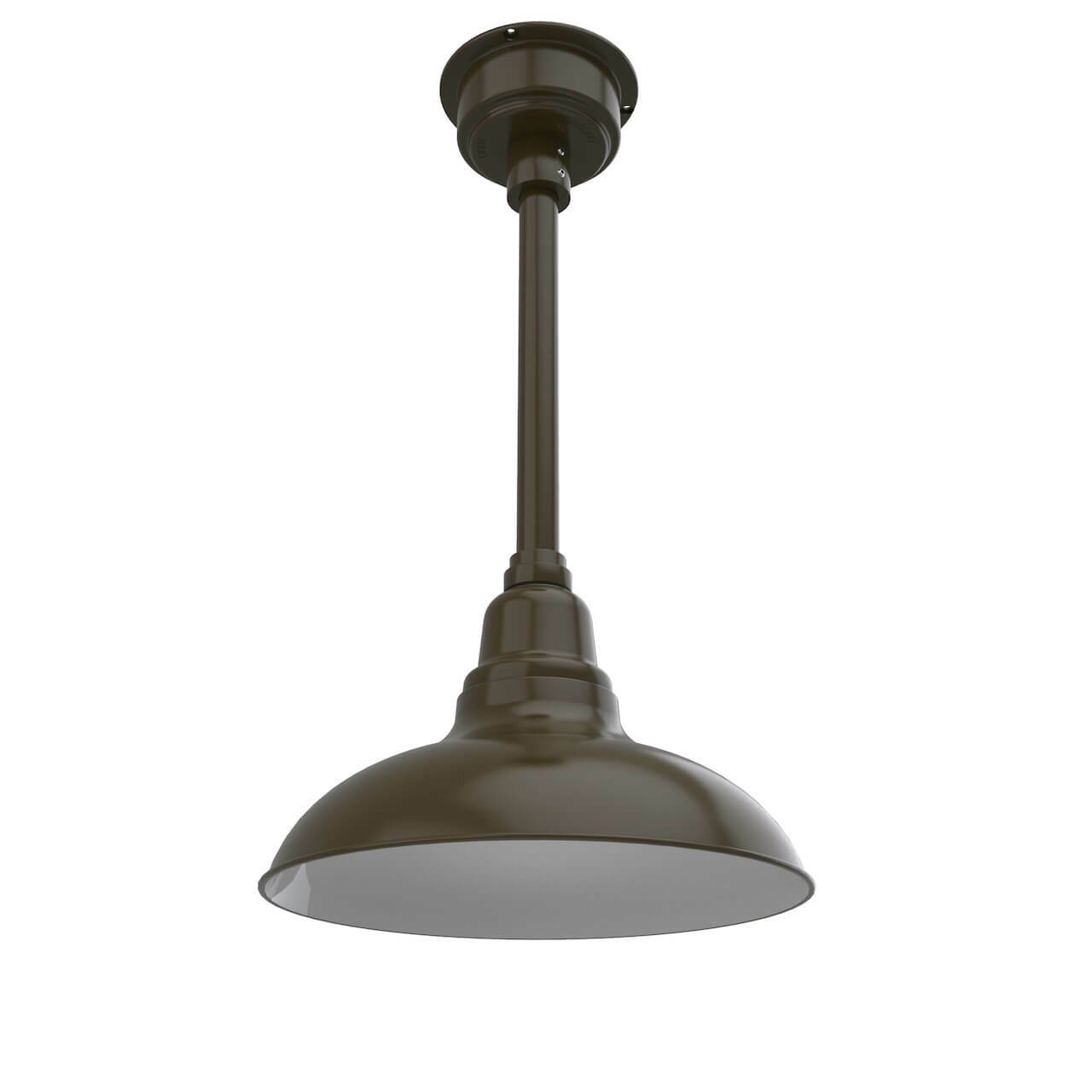 12" Dahlia LED Pendant Barn Light in Mahogany Bronze with Mahogany Bronze Downrod
For outdoor use, the Dahlia can also be equipped with one of Cocoweb's versatile multi-length downrods (available in black, mahogany bronze, and galvanized silver), which hold the shade steady in various weather conditions, and can be extended to a length of up to 4 feet to accommodate even the highest ceilings.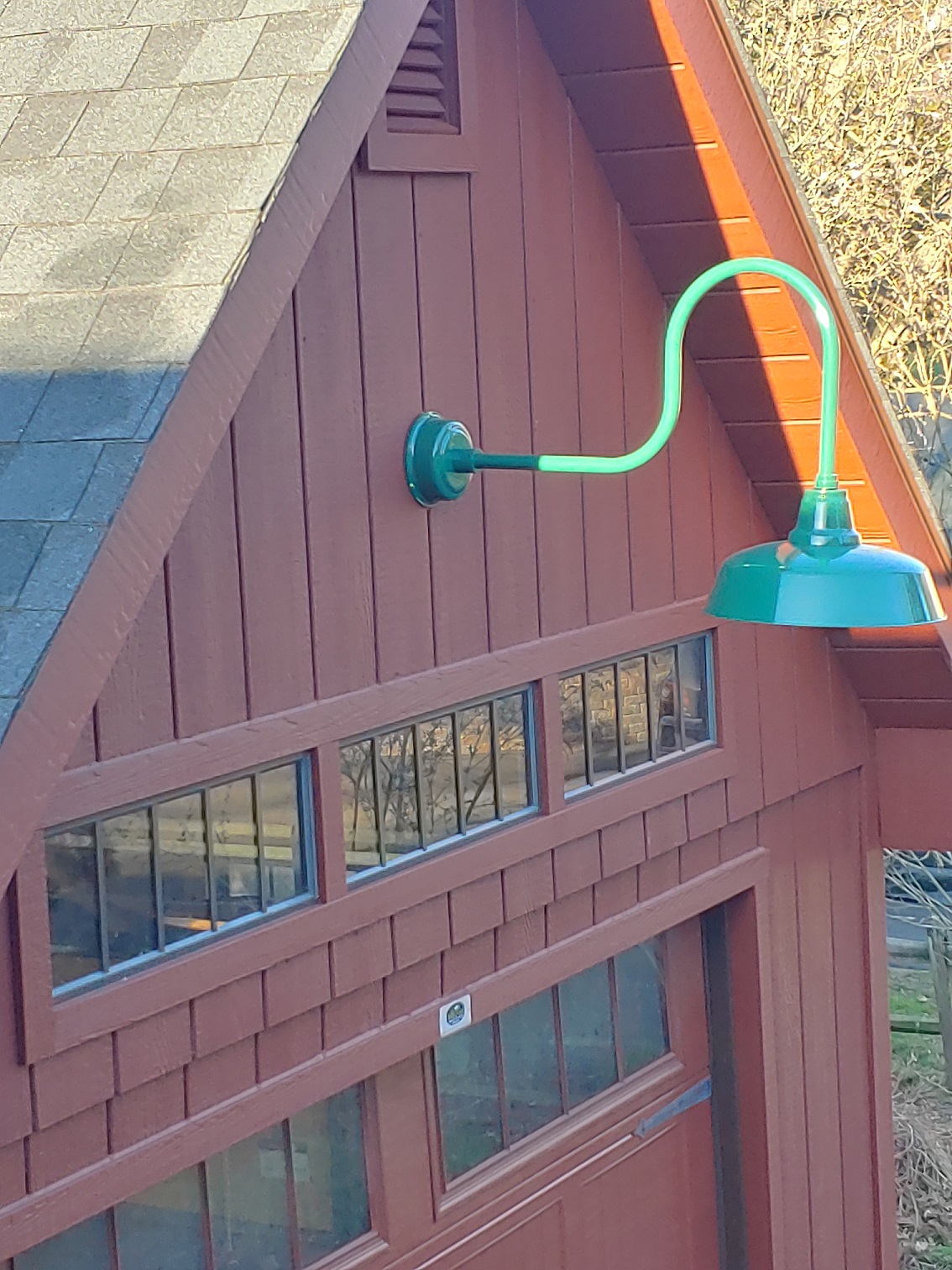 Wall Mounted
A classic option for framing a front door, garage, or balcony, sconces and barn lights are a timeless staple in the realm of outdoor lighting. Our barn lights mount flush to a surface and include anchors and screws for installation. The LED transformer is hidden discreetly inside the base of the lamp, allowing the fixture to blend in flawlessly.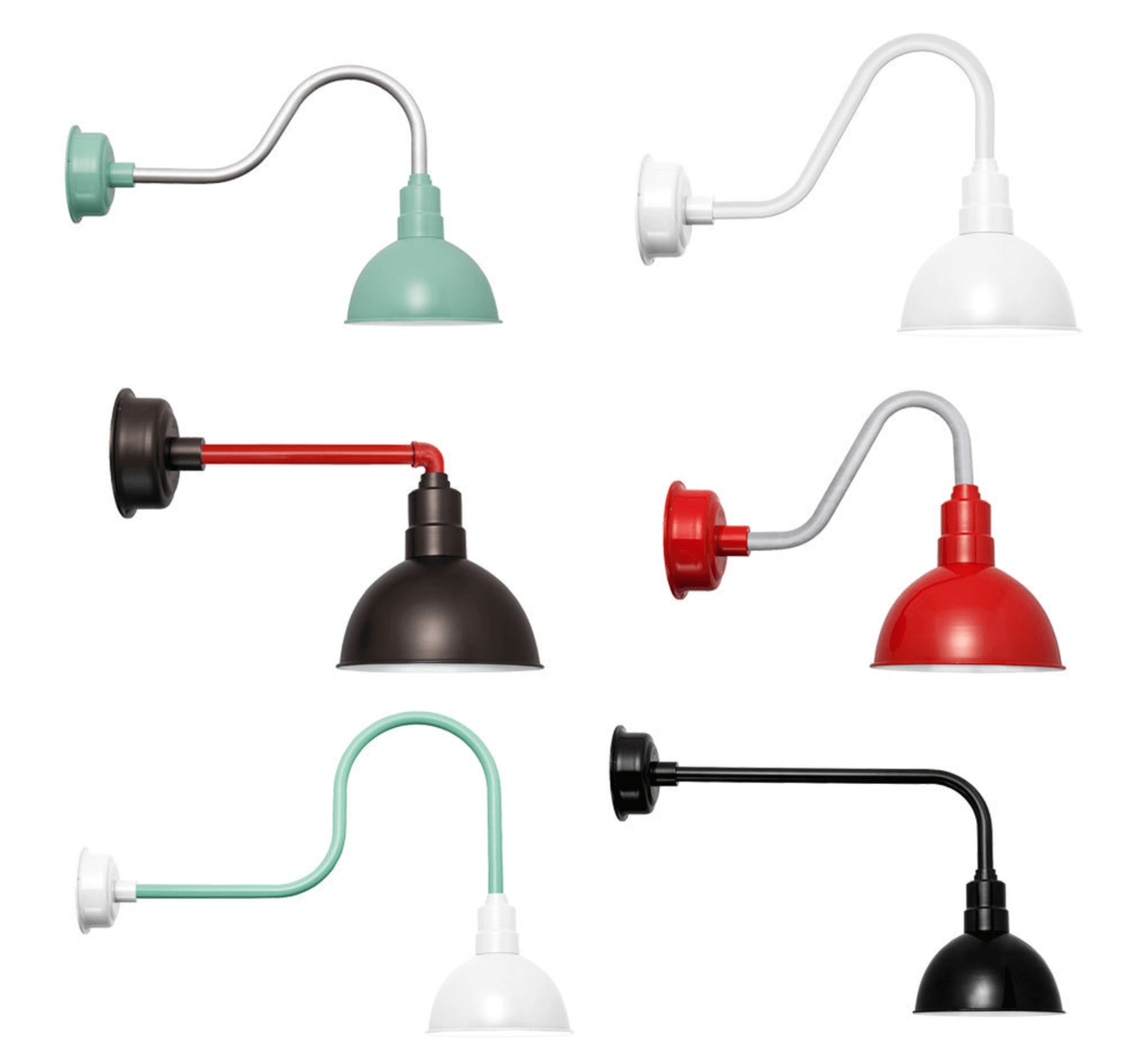 Customizable Blackspot Indoor/Outdoor LED Barn Light in various stem styles and finishes.
Trendy mounted cage wall lights are stylishly modern and blend into the general scenery while also providing the right amount of ambiance as needed. The shape of this particular lamp is ideal for a more aesthetically pleasing option of a flood light for home security, and the caged design adds an additional layer of protection for the LEDs. An area is well lit when motion is detected—the sensor has a range of 50 feet at a 90-degree angle, and the light stays on for 5 minutes after motion is detected, automatically shutting off afterwards to conserve energy.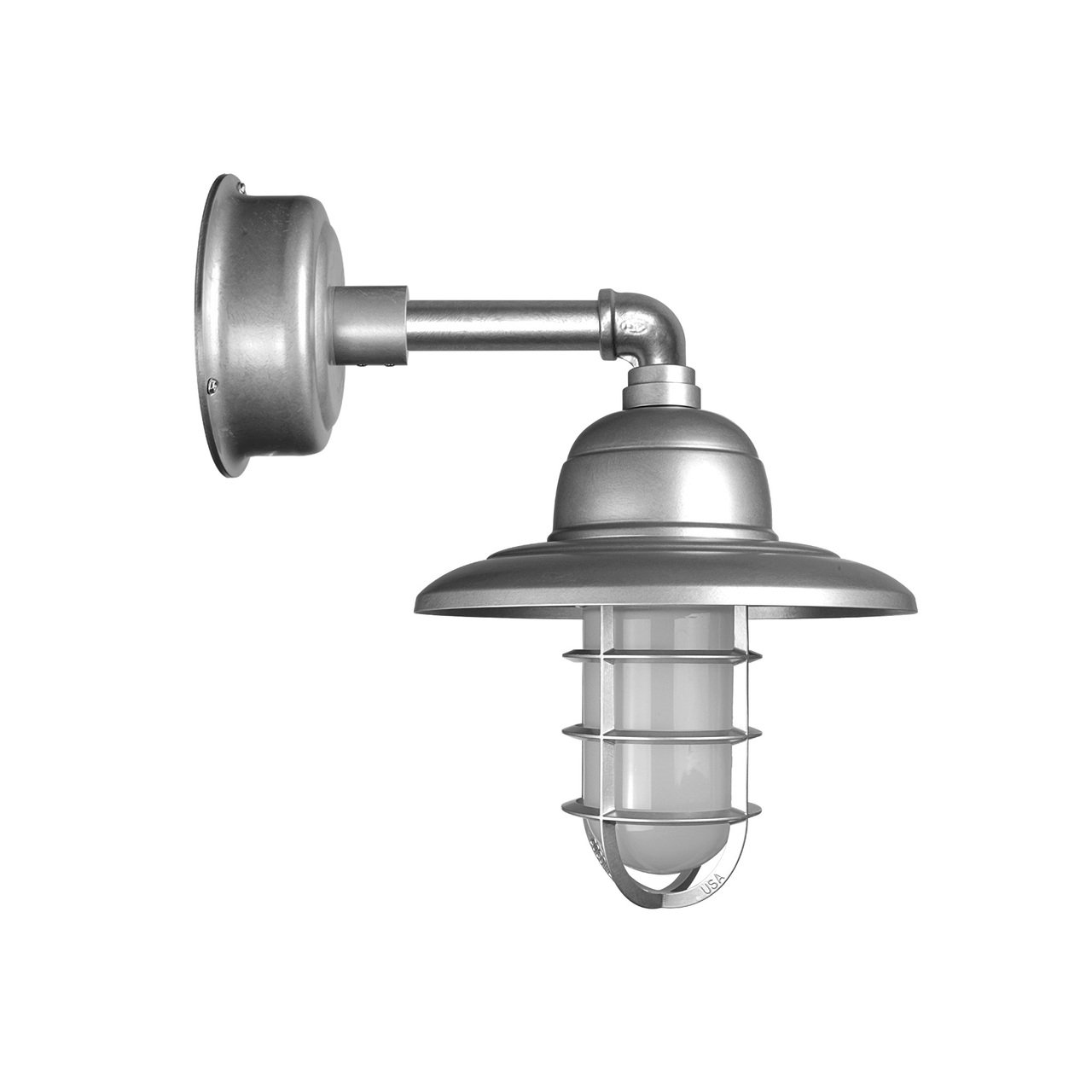 Customizable Pottery Wall Sconce - Indoor/Outdoor in Galvanized Silver.
Whether your preferred decor leans towards sophisticated and timeless, trendy and modern, industrial, or rustic farmhouse, the vast selection of outdoor lighting fixtures at Cocoweb offers endless options to suit your needs and add light to your home, indoors as well as outdoors.
Recent Posts
The much anticipated season of the year evoking memories of fireworks lighting up the sky, lighte …

As the days grow longer and the mercury rises, thus begins the time of the year for backyard soir …

An evening spent enjoying wine and pasta al fresco beneath the night sky, to a lively brewery in …