Sign Lights, with their classic gooseneck design, differ from traditional wall mounted lights, in that they include a unique swivel joint, making it possible for the shade to rotate in a 180 degree arch. This design allows the fixture to rotate away from or towards a wall. Traditionally, they have been used in commercial settings to illuminate signs, store fronts, and menus, but are increasingly becoming popular with home use, and can be seamlessly incorporated into various existing design schemes.
Hailing from the historic barn light style, traditionally used to light barns, their origins are almost purely utilitarian. Combining the style with mobility and other additional options for customization brings this classic light fixture full circle. Gooseneck sign lights are understated, subtle, and give any space an authentic ambiance.
Installing wall mounted sign lights can dramatically transform a room with far less effort than redecorating with new furniture or the hassle of painting walls.
Sign lighting is designed to hang high in the air, but precisely how high up you should install it depends on what you're illuminating and the size of the area. Our dimmable feature allows you to adjust the brightness to further customize your space.
Balancing a Wall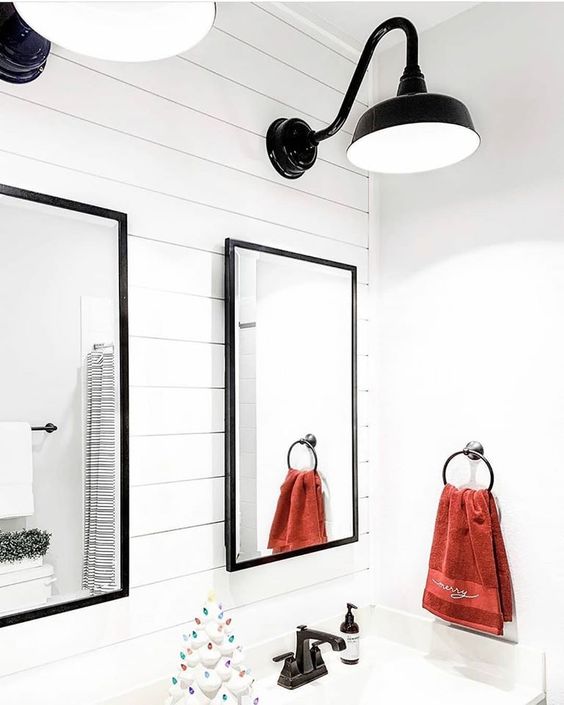 Symmetry brings peace and harmony to a room. Wall mounted lights have an advantage of taking up less space, but are often limited in the direction of lighting. However, sign lights combine the timeless style of gooseneck barn lights with the ability to change the direction and focal point.
Perfect for use in a bathroom, as well as on opposite ends of a statement making entertainment center or a grand bookshelf, wall mounted sign lights are an excellent addition for drawing your attention to a focal point of a room with the added benefit of being able to adjust the direction of the light as necessary.
Customizable Iris Storefront Sign Light is available in 6 different finishes, with shade sizes ranging from 12" to 20", and a customizable stem design
Stylish Task Lighting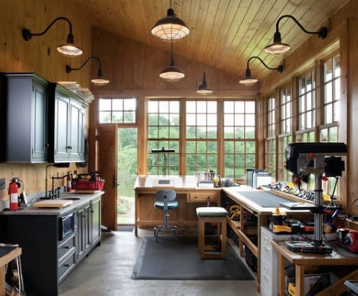 The swivel feature of sign lights makes them a perfect choice for application as a task light. The dimmable feature and ability to quickly change the direction of the light makes wall mounted sign lights perfect for workshops, art studios, and indoor and outdoor cooking areas. More commonly used outdoors, the sturdy design and weather proofing allows these lights to endure the harshest of temperatures and weather conditions, putting your mind at ease so that you can entirely focus on your craft.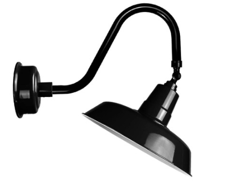 Customizable Oldage Outdoor Wall Light is available in 5 different shade sizes, ranging from 12" to 22", with 9 finishes for the shade and base, and 9 different stem styles
Illuminating Residence Numbers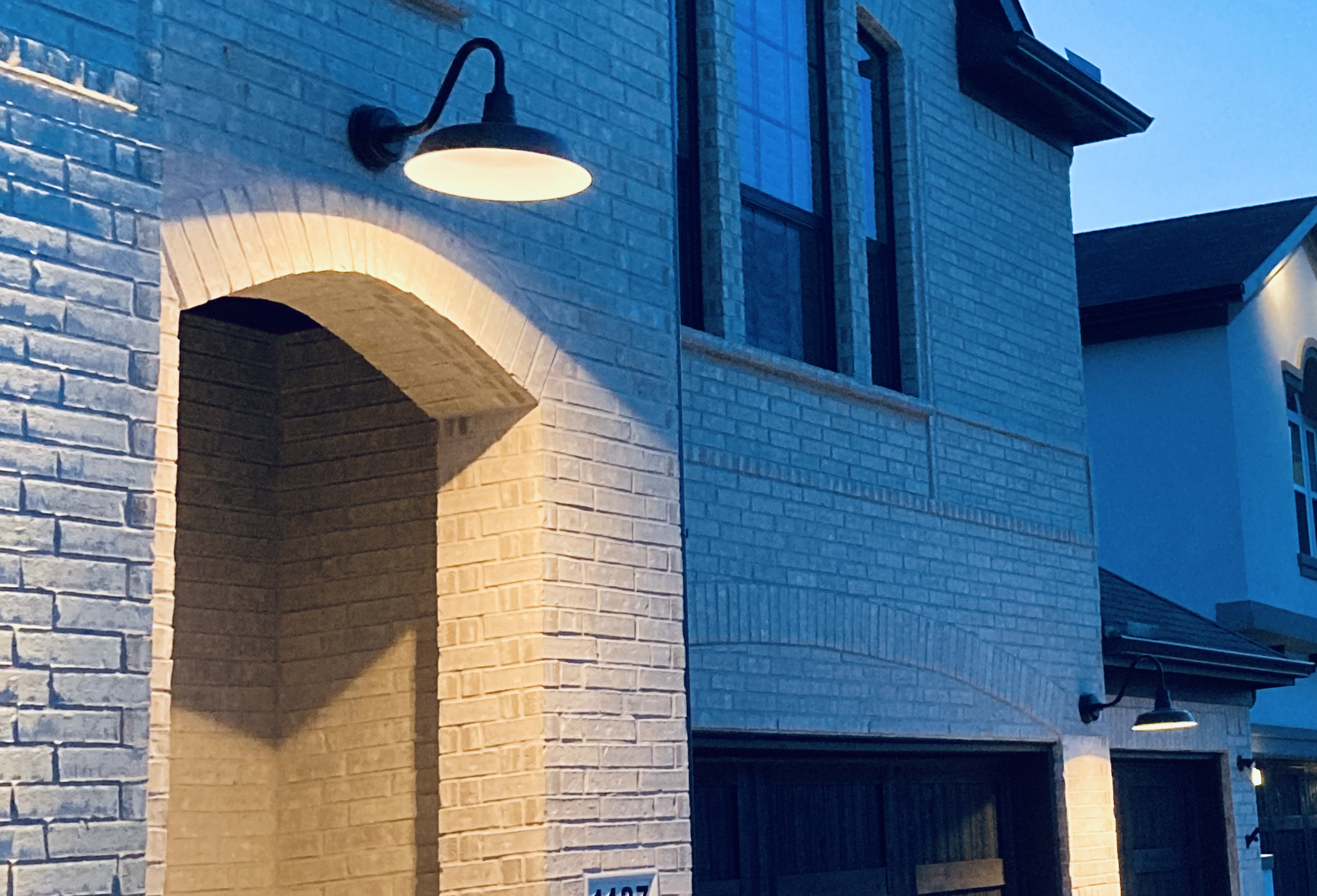 As per their name and typical use, sign lights are a more subtle but effective option to make a text or in this case, a house number stand out. They are also an ideal choice for porch lights or highlighting a door, when wall mounted fixtures are preferable to ceiling lights or standing post lights.
Sign lights placed outdoors can additionally highlight changing seasonal décor, such as a planter overflowing with flowers in spring, flags in the summer, autumnal jack-o-lanterns, and Christmas decorations on a lawn. The sign lights can be adjusted to complement the accoutrements adoring your home throughout all of the changes over the year, while standing up to the various weather conditions and fluctuating lighting needs.
Cocoweb's eco-friendly powder coated finishes are weather-proofed for a lifetime finish that prevents cracking, chipping and fading over time. Our lighting products are MET certificated and comply with the standards of the North American market. Additionally, our lights are International Dark Sky approved, and our fixtures reduce light trespass, minimize overall glare, and do not pollute the night sky, keeping nocturnal animals safe. Additional photo sensors can be added to assure that the light will stay on until the photocell detects sunlight, minimizing unnecessary power usage, prolonging the lifetime of your light, and saving money on your electricity bill.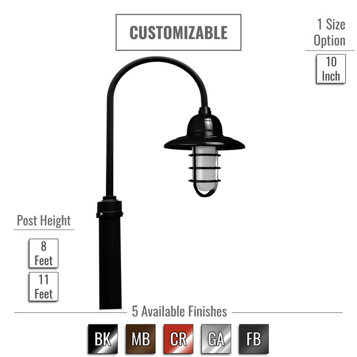 Customizable Pottery Outdoor Wall Light is available in 10 arm style variations and 5 finishes
Customizable Goodyear Storefront Sign Light is available in 4 different shade sizes ranging from 10" to 16", in 8 different shades and multiple stem styles.
Highlighting Artwork
Much like picture lights, a sign light can be used for similar applications. While picture lights are made to sit directly above a work of art, using a sign light to highlight a painting or sculpture allows you to focus the light on a broader area, and the ability to change the direction of light easily.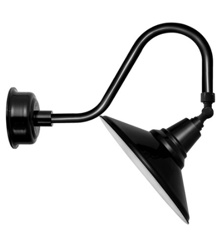 Customizable Calla Gooseneck Sign Light ranges in shade sizes from 12"-20", with 7 different finishes, and various stem styles
Houseplant Grow Lights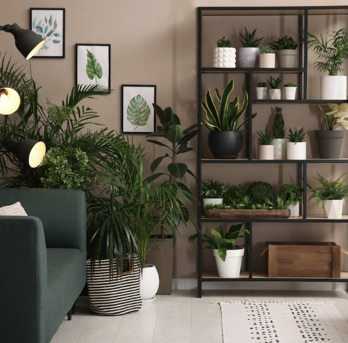 Whether your houseplants are in need of supplemental lighting, or you simply want to bring attention to an artfully curated plant corner or shelf, Cocoweb's LED lights are the perfect option.
LED lights offer enough supplemental light to aid in plant growth, without giving off heat that could burn foliage. With the adjustable arm of a sign light, you can change the direction of light to accommodate growing plants. After a single growing season, a once petite plant can quickly engulf a room. Having the ability to quickly adjust a light will enable you to have a permanent and stylish lighting fixture, while continuing to admire the beauty of your growing indoor garden.
Additionally, LED lighting is safe for pets and can be used over a vivarium or terrarium. A wall mounted sign light is a visually superior option for reptile tanks and aquariums.
Customizable Blackspot Outdoor Wall Light is available in 4 shade sizes ranging from 8" to 14", with 6 different shade and stem finishes to choose from, as well as several customizable stem styles
Whether you want to balance a room with symmetrical sign lights, seek a more stylish approach to task lighting, want to illuminate an address outdoors or artwork indoors, or if you simply want to aid or highlight houseplants, sign lights are an excellent wall mounted option for your home or business.
Recent Posts
There's something magical about feasting al fresco under the stars. A romantic dinner on the pati …

Throughout history, before the advent of electric piano lights, pianists would practice and perform …

Outdoor illumination keeps homes and businesses visible at night, while helping to dissuade crime …