If there's anything you know about wallpaper, it's that it's been used for over a century but tends to be used less today. But back in 18th century, things took a positive turn for the then-popular paper when a color printer for wallpaper was developed in 1785 and a machine was patented for producing continuous lengths of wallpaper in 1799. Wallpaper was a major component of interior design. Without wallpaper, walls were essentially naked and quite boring.
While wallpaper was popular "back in the day," many people today find wallpaper busy, tacky, and inconvenient when it comes time to both install and remove it. For that reason, most would rather just have plain, painted walls. However, wallpaper, over the past few years especially, has reinvented itself, and in turn, has become trendy yet again.
That said, if you're open to the wallpaper trend, then let's take a look at some vintage-inspired wallpapers. But don't worry; the wallpaper we'll be looking at may have vintage flair, but they can still fit right into today's times. After all, there's a difference between vintage and outdated.
Let's get started!
1-New England Floral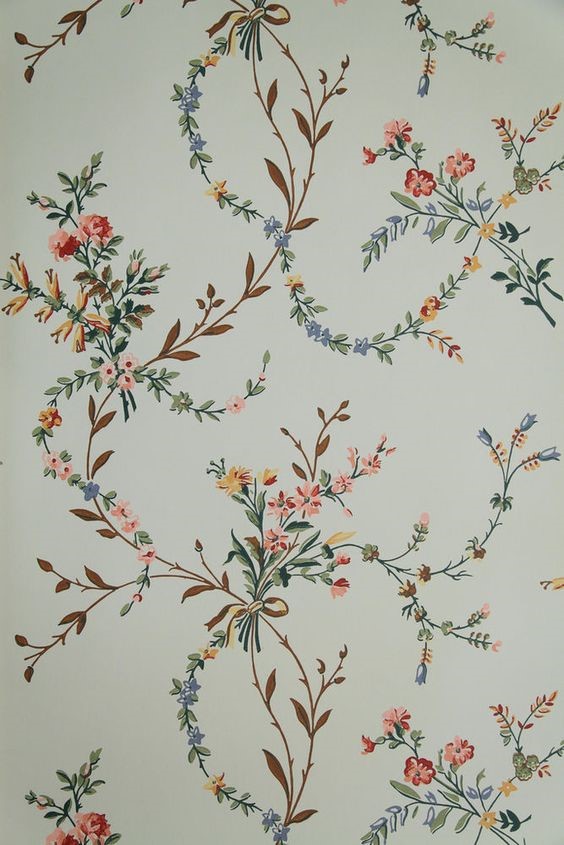 Let's start off with a floral wallpaper offering a delicate touch. With its vintage English style and choices of colors, this wallpaper in particular is definitely not modern to the eye. However, it is still relevant in that floral prints are frequently recycled over the years. Floral in some shape or form is always popular. With a clean, brighter background, this wallpaper appears trendier and less vintage.
Add a similar wallpaper to a bedroom or bathroom to add lightness, airiness, femininity, and calamity into your interior design, even if you just make it an accent wall. When making wallpaper an accent wall, try to match the background of the wallpaper to the rest of your walls. You may also wish to paint the rest of your walls an accent color found within your wallpaper.
2-Retro Flock
They always say that exposing yourself to more green is a great way to unleash your inner peace. While being around green may mean going on a brisk walk in a park or taking a quick nature hike, getting in touch with green can be as simple as adding a nature-inspired wallpaper into you home such as this one.
This wallpaper may have older vibes, but what makes it relevant today is the general theme of greenery. No matter how far urbanization takes off, there's always a part of us that wants to go back to the basics. Basking in a room featuring green accents – or green wallpaper for that matter – is an excellent way to balance urbanization and nature in your home. That said, adding wallpaper featuring plants/leaves is a great idea if you're wanting to get into wallpaper this day and age.
3-Original Sunshine Suzy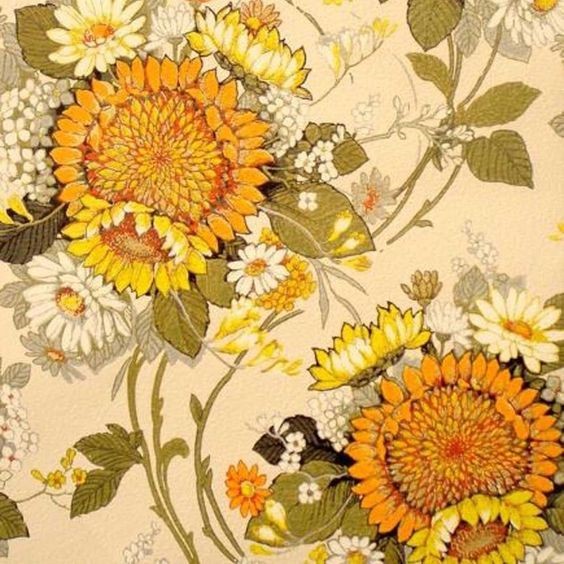 If your home needs a pop of color and cheeriness, add something like this wallpaper. It offers a variation of larger and smaller flowers with both bright and muted colors to ensure it isn't completely overwhelming for the eyes. The delicate yet sassy twists and turns of the stems and leaves in this particular wallpaper will add movement and freshness to any room.
We recommend adding a wallpaper like this in the bedroom, bathroom, reading room, or as an accent wall in a kitchen. A piece like this would also look wonderful in a more casual dining room or breakfast nook as well. But ultimately, finding a vintage-inspired floral wallpaper designed for your space is partly about picking the wallpaper and flowers featured that you love as well as ensuring the wallpaper is complementary for your interior design.
4-How Does Your Garden Grow?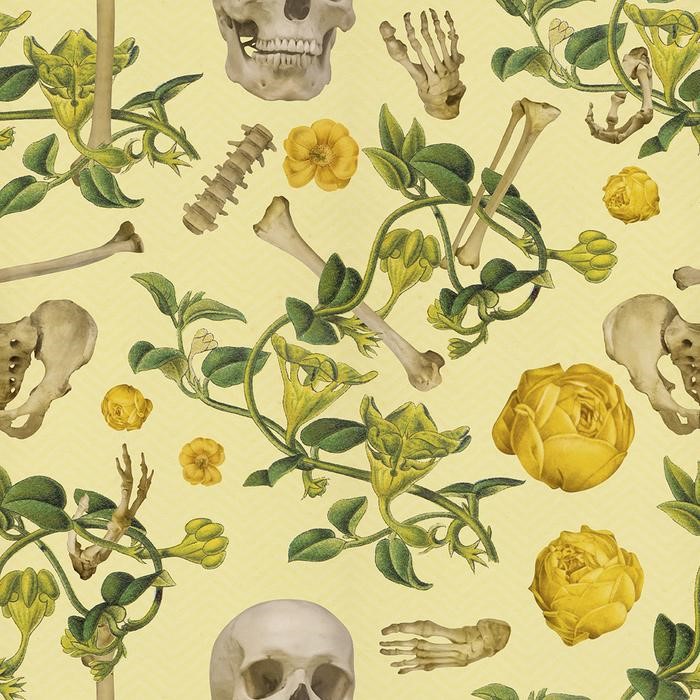 This next wallpaper has vintage influences, but with the addition of the skulls and bones, it is apparent that it also has a more modern twist to it, making it relevant today. While in some people's eyes, skulls and skeletons can appear a bit Halloween-ish, others love them all year 'round and don't mind featuring them in their home. It's all about personal preference.
Due to the controversy regarding skulls, this wallpaper may be something you prefer to keep in a personal room such as a bedroom. It would also look neat in a relevant restaurant. But generally, adding wallpaper with vintage-modern appeal like this wallpaper, there are always going to be people who find it tacky or even offensive toward vintage. In the end, the style of wallpaper you bring in your home is completely your choice.3
5-Dusty Rose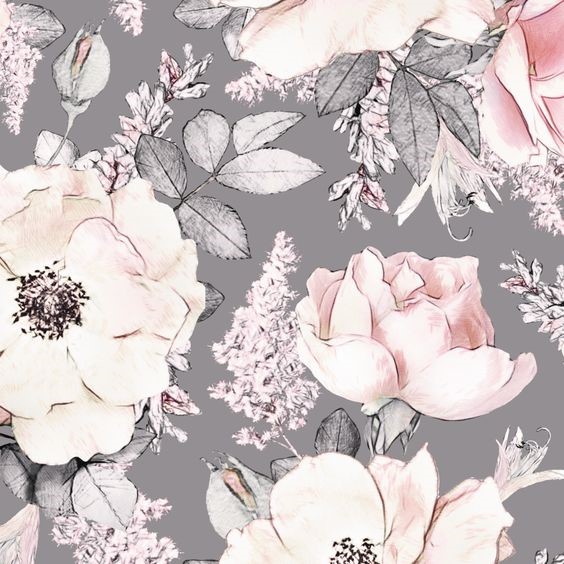 Not everyone likes bright wallpaper. If you want to keep things more neutral or muted in color, consider something like this. The use of grays provides conservativeness, and the lightness of the outlines and colors of the flowers provide grace. The paler colors of the flowers and the darkness of the leaves on the medium-gray background give this wallpaper almost a faded look, as if this wallpaper really is old. Yet, the flowers featured suggest that the wallpaper is still "in the now" as roses are always in style.
This wallpaper would look excellent in a bedroom, bathroom, dining room, or even a nursery. If you find similar floral wallpapers a bit too busy, adding it as an accent wall would ensure your space isn't too overstimulating. It would also look stunning in a farmhouse-themed home. Generally, there's a lot of potential with wallpaper like this.
6-Country Quadrille Damask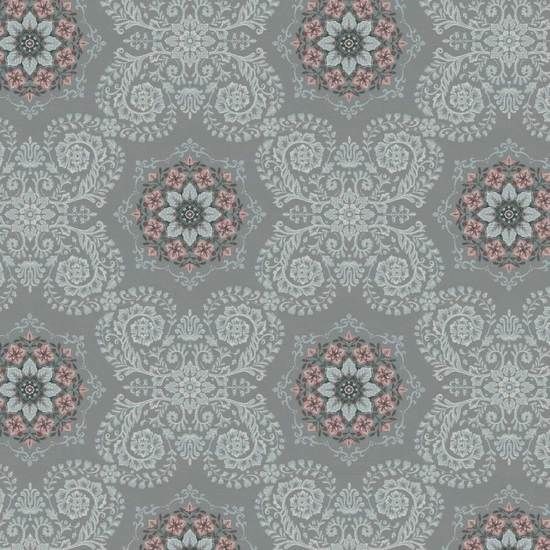 Many vintage-inspired wallpapers offer floral designs; however, this last one we'll look at offers a lacey damask print to add formality into any room in your home, particularly a kitchen or formal dining room. The blue-gray color it provides is a particularly trending color at the moment, especially in farmhouse-themed designs. The vague touches of pink also add femininity without going overboard.
Damask- or lace-printed wallpapers certainly have vintage charm, but depending on the style, they can also fit right in interior designs today no problem. These prints may be similar to a delicate doily or may be less intricate but bolder. Some may find prints such as these very old French, but in reality, they have made a wonderful mark elsewhere over the decades and can still be found featured on jewelry, clothing, and of course, wallpaper.
Conclusion
When it comes to wallpaper, most people may prefer just to have painted walls, but with wallpaper trending again, considering jumping on the bandwagon can open up your eyes to a whole new world of interior design filled with unlimited possibilities.
You may believe all wallpaper is old-fashioned and unattractive, but there are many styles, colors, prints, and even textures of wallpaper out there that can best suit your home. With vintage-inspired wallpaper, you can bring a little vintage charm into your home – or if you prefer, there are other wallpaper options that can best suit, say, your contemporary or modern home.
But in the end, don't knock wallpaper 'til you try it, whether that be wallpapering your entire room or simply adding wallpaper as an accent wall to amp up your interior design.
If you need more interior or exterior design-related tips and tricks, check out the rest of our blog posts .
Recent Posts
Summertime is going strong and the heat is most certainly upon us. With triple-digit temperatures, k …

You may or may not know, Cocoweb started its roots in lighting. With LED lighting being our specialt …

Picture Perfect:The Art of Lighting Your GalleryWhen entering someone's home, your eyes are immediat …