Throughout history, before the advent of electric piano lights, pianists would practice and perform by candlelight at night. However, while they illuminated the keys, the glare from the flames would also be quite distracting to a performer. A cover was invented to block the performer's direct view of the light source. Soon, banker's lights came into use, featuring a decorative green glass cover to serve the same purpose, with a stylistic component. Commonly seen in banks, libraries, and other institutions desiring a classic, opulent, or scholarly aesthetic, the hooded lamps are a timeless and beloved staple. These banker's lamps were ideal for brightly illuminating a desk surface while maintaining a sleek and compact size, minimizing distractions.
Piano lights and banker's lamps are often interchangeable with one another for their similar appearance, but piano lamps can also function as task lighting for non-musical use. With the wider variety of styles, from desk top, to floor lamps. Now, modern piano light designs also feature a clip, rather than a stand, allowing them to be easily moved and placed in multiple locations around your home. Our cordless piano lights feature the same slim design, while being battery operated, allowing the utmost mobility. While their most common use is for tickling the ivory keys, you don't need a piano to justify having piano lamps in your home.
While piano lamps have historically cost more in general than other types of lamps, over the years they have come down in price thanks to LED lighting technology, which not only lasts longer, is more energy-efficient, but also costs less than other types of lightbulbs.
Desks and Workspaces
"The first banker's lamp was switched on in 1909, thanks to a New York City engineer named Harrison D. McFaddin. His patent application stated he sought to create 'a new, original and ornamental design for lamp shades.'" as stated by Apartment Therapy . "'A lighting system (using standard Mazda bulbs) designed to protect eyes by eliminating glare and improving quality of light,' reads an Emeralite ad. 'Comprised of lamps for every reading, writing, and working need in home, office, and industry.'
The green-tinted light was supposed to make reading and writing easier for people who spent long hours doing those things. Some sources point to the green visors, or eyeshades, that accountants once wore as proof of this."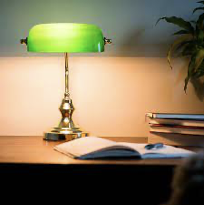 Over time, the ubiquitous green lamp shade of banker's lamps has been disproven to ease eye strain, but over the years, research has found that lights with less of a cool, blue color temperature can greatly reduce strain on eyesight during long periods of focusing at night or in dimly lit environments.
The 2700k color temperature of Cocoweb's LED lights provides a soothing warm light to help you focus on reading and detailed tasks for longer periods without eye fatigue, and many styles feature additional dimming capabilities.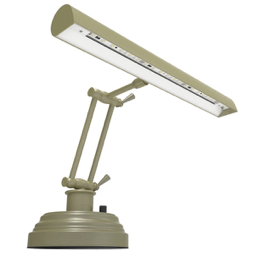 Customizable 14" LED Desk Lamp
Available in Mahogany Bronze, Antique Brass (pictured), Oil Rubbed Bronze, and Satin Nickel finishes
Paying homage to the classic banker's lamp design, Cocoweb's Customizable 14" LED Desk Lamp is perfect atop desks as much as above a grand or upright piano. A dimming controller is located at the base, as well as an adjustable arm, with two points of adjustability, offering complete control over the direction of light. A ball joint allows the shade to swivel to change the angle as well. Finally, the base is lined with premium felt to protect your surfaces from scratches, while the weighted base, powder coated finish, and expert craftsmanship ensures a lifetime of use.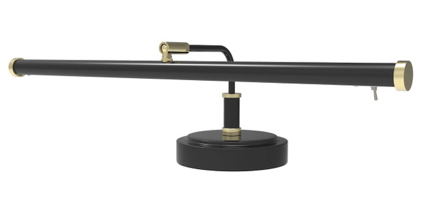 Customizable LED Piano Desk / Table Lamp
Available in Black with Brass Accents (pictured), Mahogany Bronze, and Antique Brass Black with Satin Nickel finishes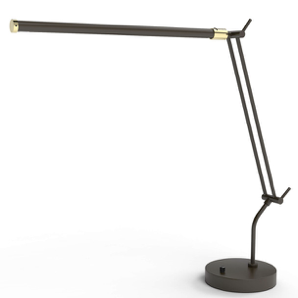 Customizable Ultra-Slim LED Banker's Desk Lamp
Available in Black Brass, Mahogany Bronze (pictured), and Antique Brass finishes
The 19" Customizable Ultra-Slim LED Banker's Desk Lamp is often seen accompanying upright and grand pianos, but works additionally well as a desk, monitor or keyboard lamp. The adjustable design allows you to get the perfect height and angle for the light, making it an ideal solution for brightening up piano keys or sheet music in dimly lit areas.
Illuminating a Painter's Easel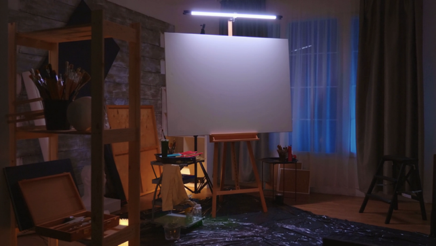 Set above a canvas, the cordless design is ideal above a canvas perched on an easel, particularly for plein air painting into the evening. The dimmable control allows you to picture your masterpiece in varying light.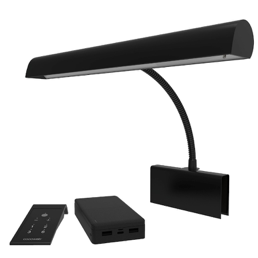 Cocoweb 14" Battery Operated LED Piano Lamp with Gooseneck Design and Clip-on Mount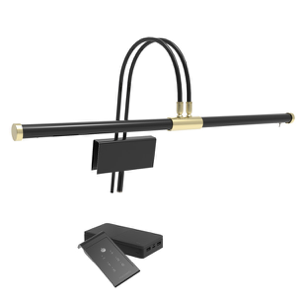 22" Battery Operated LED Grand Piano Lamp - Black with Brass Accents
The inside of the clamp features a soft felt lining to protect the finish of your easel or piano. The clamp is fully adjustable to fit music boards ⅜'' to 1.5'' thick and is compatible with most pianos, including Boston, Bosendorfer, Baldwin, Fazioli, Steinway, Yamaha, Suzuki, Roland, Kawai, and Casio.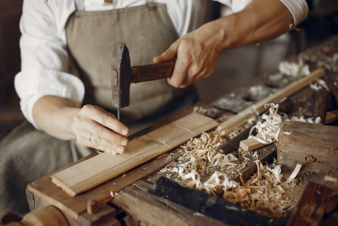 Clip-on piano lights make a fine addition to woodworking and electronic work stations, offering maximum flexibility, while also being a safer option than using a corded light. Each lamp is handcrafted from the finest brass and aluminum, and coated to resist scratches and damage, so you can enjoy your hobby of choice without worry.
Piano Floor Lamps
For a more fixed light source, the Piano Floor Lamps at Cocoweb illuminate large areas from a towering height, with a sleek design that blends into any room's existing aesthetic. The swiveling arm and light shade are adjustable, as well as the height. A dimming control rests on the stand, and the base is weighted for additional stability.
This style is perfect for starting seeds indoors over the winter months, and adjusting the height as the seedlings grow. It is additionally suitable for hovering over a pottery wheel, or any task requiring overhead light without the commitment of installing a pendant light or wall mounted sconce.
High Powered, Dimmable LED Piano Floor Lamp
Piano lamps have advanced exceptionally in design and technology over the years. As the original light to inspire the creation of Cocoweb, our years of experience and expertise in piano lamps has yielded unrivaled quality and artistry. Whether used for practicing music, or any number of other skills and hobbies, our selection of customizable piano lamps are a welcome addition to your home or business.
Recent Posts
There's something magical about feasting al fresco under the stars. A romantic dinner on the pati …

Throughout history, before the advent of electric piano lights, pianists would practice and perform …

Outdoor illumination keeps homes and businesses visible at night, while helping to dissuade crime …