Description
Introduction
The High Powered, Dimmable LED Piano Floor Lamp is perfect for those with a limited desk or table-top space. The small, round base fits most spaces. The slim shade houses a powerful LED array that provides generous light for any task. Use this space-saving lamp for your office, music room or reading nook!
Adjustability / Versatility
Shade rotation and two points of adjustment allow you to get the perfect position for your lighting needs.
Dimensions
From base to top of the shade, the lamp stands at a maximum height of 60''. The shade is 19'' in length. The lamp stands on a 10'' diameter, circular base.
LED Technology
Cocoweb's integrated LED array resembles natural sunlight, a warm white light, which prevents eye strain. Each lamp comes pre-installed with 24 LED nodes that consume less than half of the electricity of incandescent bulbs. Our LED arrays are rated for 50,000 hours of use, which is approximate to 5 years of constant use.
Finishes
The High Powered, Dimmable LED Piano Floor Lamp is available in 4 finishes; Antique Brass, Black with Brass Accents, Black with Satin Nickel Accents and Mahogany Bronze. This unit is Black with Brass Accents. Each color is a matte, powder-coated finish. The powder coating ensures a beautiful finish for lifetime use.
Features
A felt bottom protects your floor's finish from minor scratches. Easy to reach toggle switch turns the light on and off in conjunction with the dimmer switch.
Dimmer
Each lamp comes with a dimmer wheel. The dimmer wheel is located on the stand of the unit for easy accessibility and controls the full-range dimmer as well as the on/off function.
Power Cord
A 10-foot, black, plug-in adapter is included to power your lamp.
Dimensions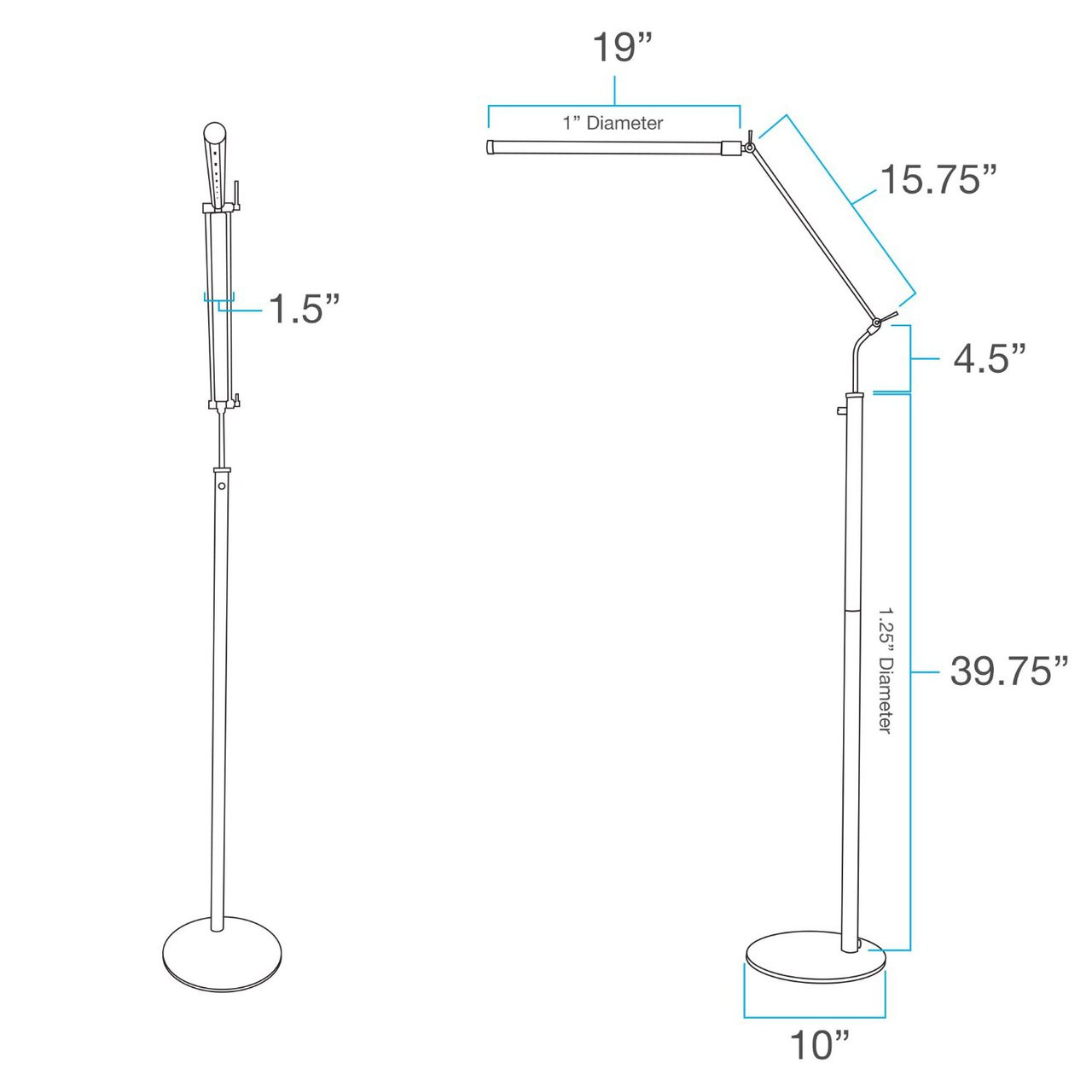 Specifications
| | |
| --- | --- |
| Power Source | 10ft Plug-In Power Cord |
| Material | Steel and Aluminum |
| Bulb | Pre-installed LEDs |
| Finish | Black with Brass Accents |
| Color Temperature | 2700k |
| Brightness | 960 Lumens |
| Color Rendering Index | 90 |
| LEDs | 24 Nodes |
| Dimmable | Yes |
| Lighting | adjustable directional |
| Lifespan | 50,000 Hrs |
View All
Close
Additional Information
| | |
| --- | --- |
| Type: | Piano Floor Lamps |
| Finish: | Black |
View All
Close