There's a reason we consider wicker items to be timeless: wicker has been used for furniture and baskets since B.C. times. In fact, the use of wicker is and has been quite universal from culture to culture. Although some might consider wicker on a broad scale to be an old-fashioned technique, it nevertheless has a versatile purpose both aesthetically and functionally
Focusing on wicker baskets, there are endless ways to make use of them in just about any interior design. You may already have a wicker basket or few on hand whether you purchased it specifically for use in your home, received it when someone gave you a gift basket, or have an empty one from Easter.
Here are some fun ways to use wicker baskets in interior or exterior settings:
1 - Planters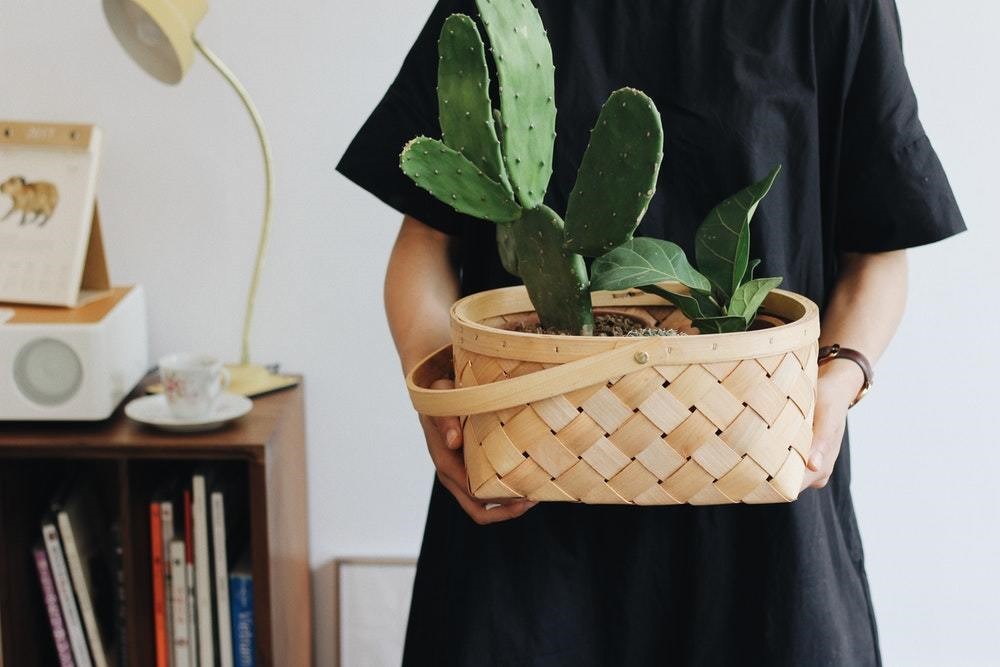 Plants big and small can look stunning when planted in gorgeous wicker baskets. Consider a tall, skinny wicker basket to place a real a fake tree, or opt for a long, short basket to display faux flowers or a series of plants. You may even use wicker baskets as hanging planters as well. All of these can look stunning both indoors and outdoors. Just make sure if you use real plants that your plants are still placed in a real pot before being placed in a wicker basket as baskets tend to be porous and may thus leak water and soil.
2 - Wall Art
Refrain from merely using two-dimensional art in your home. This goes for both interior and exterior designs. Fortunately, thanks to wicker baskets, three-dimensional art doesn't merely mean adding statues and figurines in your space. In fact, you can use several wicker baskets to create a beautiful, art-filled wall. Wall art can be as simple as hanging flatter wicker baskets on one of your walls. This is a quick and easy way to fill up a blank way and add both shape and texture to your design. Consider selecting baskets of different shapes and colors to display on your wall. Variation keeps the eyes moving.
3 - Accent pieces
Apart from wall art, there are numerous ways you can use wicker baskets aesthetically in your interior or exterior design. After all, baskets arrive in a wide variety of different shapes, sizes, and colors. You might wish to add a few baskets on a shelf of a book case to help fill up empty space or even add a tall, skinny basket in between a set of two patio chairs. Getting creative with how you use wicker baskets aesthetically is key, and best of all, you don't even have to add anything to your baskets if you don't wish.
4 - Kitchen organizers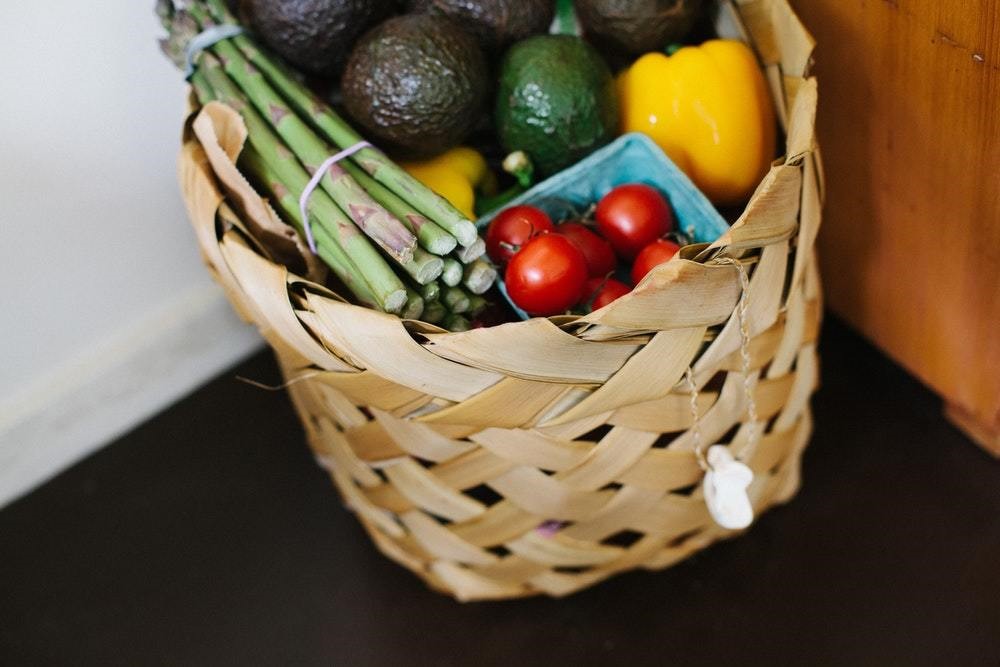 There are some items in your kitchen that you may wish to refrain storing in cabinets or drawers. Even if you do wish to store items in cabinets or drawers, tiny items tend to need further organization to ensure they don't get lost. That's where wicker baskets come in. In a wicker basket, you can store a lot of kitchen items. Plates, napkins, silverware, cups, spices and herbs, packaged foods, fruit, and the like are all great candidates for wicker kitchen organizers.
5 - Toy storage
Keeping toys off the floor and in an organized arrangement is not always easy. However, with the help of wicker baskets, you can keep your little one's toys out of sight and out of mind yet easy to locate when playtime comes around. Place toy baskets on bookshelves or on a table to make toys easily accessible. While not required, some enjoy labeling wicker baskets and organizing the toys in each basket based on "type" (e.g., dolls or action figures, stuffed animals, smaller trinkets or toys).
6 - Clean or dirty laundry containers
Everyone has different ways of storing clean and dirty laundry. One of those many ways is to opt for wicker baskets. You might use a large, lined wicker basket to store dirty clothing or long, flatter baskets to transport clean clothing to your bedroom. Some may be fond of the idea of permanently storing certain clothing items in wicker baskets (e.g., baby clothing, beanies, undergarments, socks). These baskets can look attractive when placed on the shelves of a closet, on top of a dresser, or even inside of a dresser drawer if you want things organized yet more concealed.
7 - Table centerpieces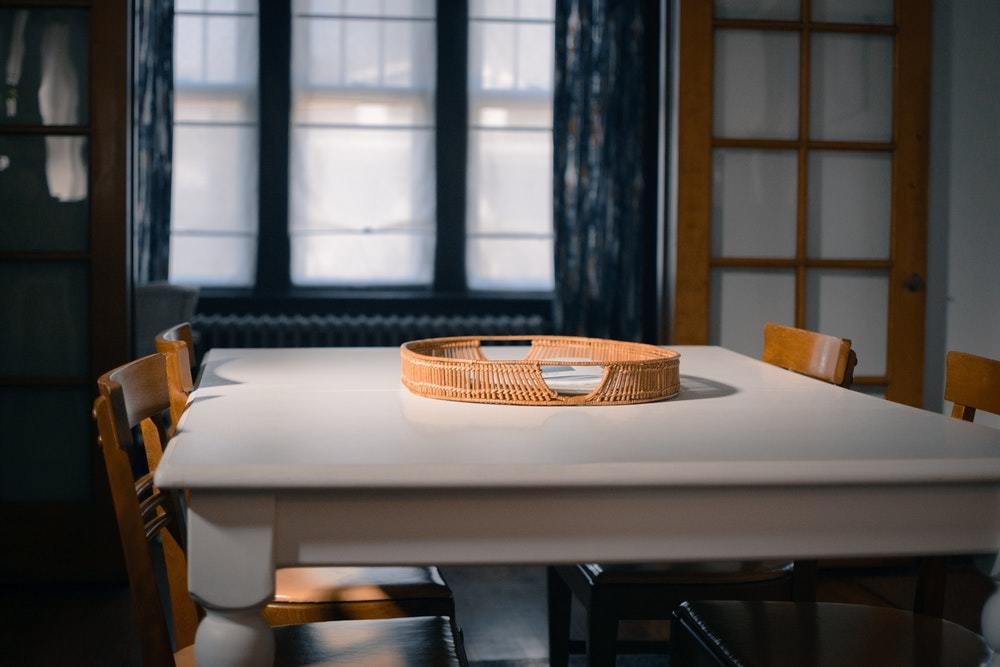 Whether you typically have formal or casual dinners at home, having a long, short wicker basket centering your dining table can provide you and/or your guests everything necessary for the proper meal. Display napkins, silver- or plastic-ware, salt and pepper shakers, and other table necessities. If you're eating outside, it's easy to transport dinner supplies outdoors with things organized in a convenient basket.
8 - Toiletry organizers
Especially for smaller bathrooms, having the right organization for toiletries is important. Whether you opt to have some or all toiletries on display, wicker baskets can certainly do the trick. Typically, the best baskets for toiletries are ones that are short and elongated, able to hold a lot without hiding the contents inside. Consider using wicker baskets to store toilet paper and feminine napkins or wipes. If you opt for a wicker basket to store personal products, consider utilizing it for shampoo, conditioner, wash rags, face wash or wipes, brushes or combs, and the like.
9 - Book or magazine holders
For those who don't have room for a book case, need just a tad more space for their books, or don't own enough books to opt for a whole book case, using a wicker basket or few to hold your novels, magazines, and tabloids is an excellent idea. Some enjoy having books near a couch, recliner, or rocking chair. Others like having a container of magazines or books in their bathroom while using the toilet or bathing. Regardless, using a wicker basket to hold books ensures you have your favorite novels close-by in a portable manner.
Other Ways to Use Wicker Baskets in the Home Setting:
Storing dog or cat toys
Organizing shoes
Holding umbrellas
Storing garden supplies (e.g., garden gloves, hand shovel, hand rake, seeds or bulbs, etc.)
Keeping makeup products or nail polishes in one place
Holding mail or other important papers
Storing throw blankets or extra pillows for overnight guests
Ensuring vitamins, supplements, medications, or first aid supplies are in one place
Keeping knitting or art supplies together
Storing or displaying collectible items
Organizing baby supplies (e.g., diapers, baby powder, diaper rash products, etc.)
Conclusion
Not everyone will enjoy the look of wicker, let alone wicker baskets, in their home, but it's how you utilize such in your interior or exterior design that makes all the difference. Apart from wicker baskets themselves, the best part of adding such baskets to your design is their versatility, ability to add texture to your space, and their timelessness.
Whether you use your wicker basket(s) as table centerpieces, kitchen organizers, planters, wall art, accent pieces, toy storage, clean or dirty launder containers, toiletry organizers, or book or magazine holders, there are endless ways to use baskets in your interior or exterior design.
If you need more interior or exterior design-related tips and tricks, check out the rest of our blog posts.
Recent Posts
As the air turns crisp and the leaves take on shades of gold, it's that time of year again – Thanksg …

In the realm of interior design, lighting plays a pivotal role in shaping the ambiance, functionalit …

When it comes to designing your dream kitchen, every detail matters. From the color of the walls …