Girls bedrooms often consist of pink and purple, basic floral prints, and butterflies. Some girls may have a princess bedroom theme or may not have a specific theme at all but instead might have glitter, fluffy objects, cute prints, and soft colors throughout their room. But with the variant personalities girls have from one another, it makes sense to explore actual bedroom themes that reflect the traits of the individual.
If you're looking for a specific bedroom theme for your daughter, our list of the best bedroom themes for girls will open your eyes to some fun options:
1 - Japanese cherry blossom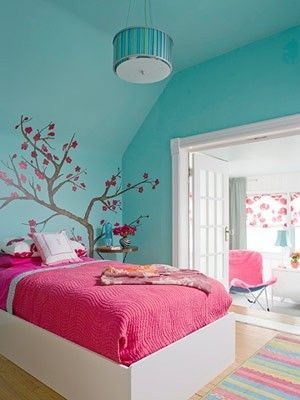 Starting off with something simple and nature, a Japanese cherry blossom theme can add cheeriness, peacefulness, and a splash of culture into your daughter's life. Best of all, it's not difficult to implement. Focus on adding pink, brown, and blue to your daughter's bedroom. The initial two colors resemble the cherry blossom tree, and blue can resemble a clear sky. Consider adding variations of these shades along with hints of white and/or tan or beige.
Specifically for this bedroom theme, add modern furniture and wooden objects to the space. Ensure the room is clean and minimalistic. Have a Japanese cherry blossom painted or framed on the wall, or have a fake potted Japanese cherry blossom tree (if you can find one or even make one) somewhere in the room. You may also wish to include other Japanese décor or inspirations in your daughter's bedroom such as a maneki-neko (a.k.a. Lucky Cat) figurine.
2 - Under the sea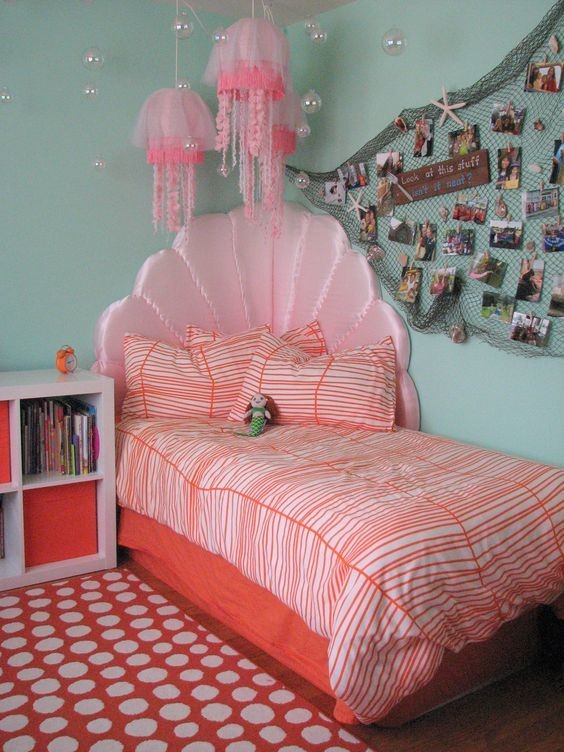 If your girl has interests in mermaids or generally loves the beach, an under the sea bedroom might be the perfect fit. Generally, this theme is easy to incorporate. The main color to focus on with this theme is blue; the other colors you may select will be up to you and your daughter, but coral, orange, and pink are highly recommended. With polka dots, fish scales, or scallop prints along with wood or bamboo textures, your daughter's room will be relevant to the under the sea theme.
To your daughter's design, also consider adding scalloped furniture, a fishing net on the wall, clear vases or jars filled with sand and shells, or coral statues to the space. Also add décor featuring mermaids, sea life, sea shells, anchors, seaweed or kelp, or other beach-y inspirations. While certainly not required, adding under-the-sea-like projector night light or even a fish tank to the bedroom would both be beautiful touches to ensure your daughter's walls features the iridescent, rainbow-like effect water creates.
3 - Vintage doll house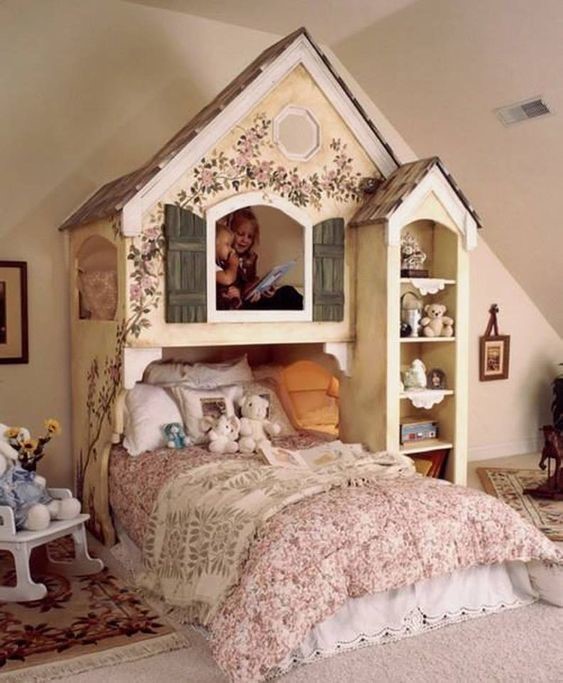 Not every girl likes bright, flashy colors. If your daughter prefers muted, pastel, and Earth-y hues, a vintage doll house theme might be well-suited for your little girl's bedroom. Emphasize beige, white, off-white, muted green, pale brownish-yellow, and/or vintage pink when achieving this dainty, feminine bedroom theme. Prints can include paisley or old-fashioned floral prints. Lace, reclaimed wood, and carpet should be textures emphasized in a doll house theme.
To achieve this bedroom theme, you can simply focus on vintage furniture, prints, and the like. Or you might prefer making your daughter's bedroom look like an actual doll house by incorporating a large doll house in your daughter's bedroom, similar to the one featured in the above photo. Make sure to add a rocking chair, stuffed animals, and/or an old-fashioned vanity to make your daughter's doll house bedroom theme come to life.
4 - Unicorn dreamland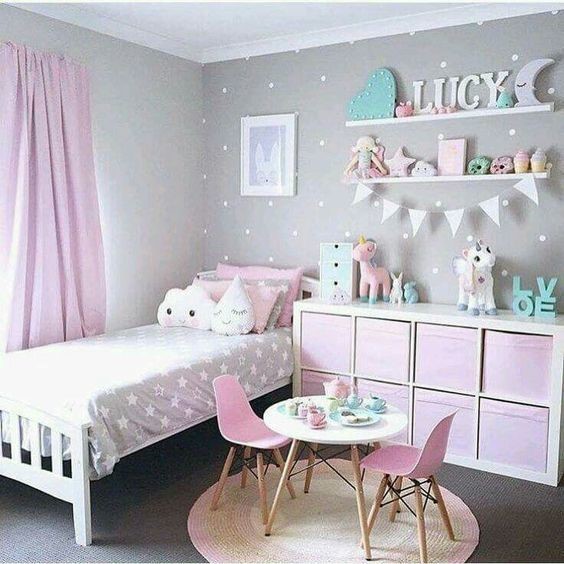 Unicorns are all the rage right now. In fact, many little girls have a strong love for these mystical creatures as is, trend or not. Implementing a unicorn dreamland theme is fairly easy. Your daughter might prefer a similar color scheme as the one pictured above with pale gray and pastel colors – which is particularly popular right now. Or your daughter might like a "traditional" unicorn color scheme featuring lots of white, and for the accent hues, a rainbow of bright colors.
Either way, a unicorn-themed girl's bedroom might include polka dots, raindrops, floral prints, fluffy objects, stars or moons, clouds, rainbows, glitter or gems, and of course, unicorns. Consider adding lots of pillows and throw blankets, a large fluffy rug, or a tiny faux-crystal chandelier to the space. Paint a rainbow on the wall, add a floral wallpaper accent wall, or add a fun projector night light to your daughter's bedroom relevant to the unicorn theme.
5 - Ice cream shop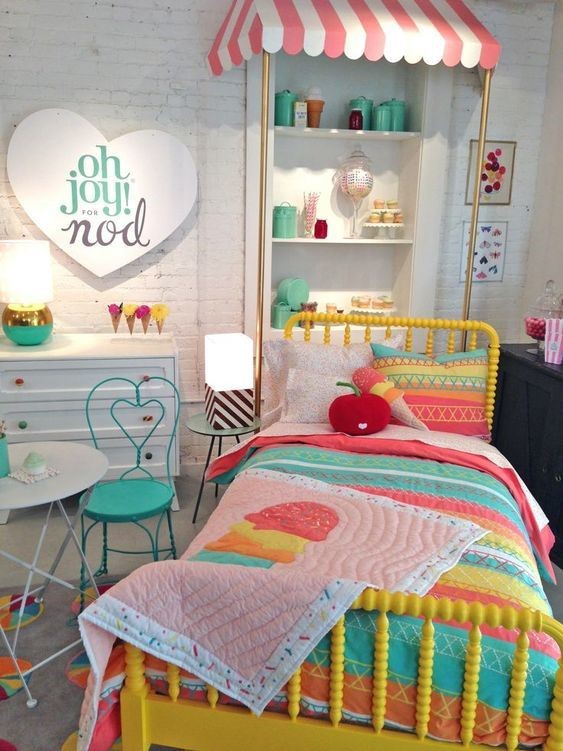 Those with a sweet tooth will love this ice cream shop bedroom theme. Lots of white paired with a healthy variation of pastels and vibrant, cheerful colors from bubblegum pink to bright turquoise make for the perfect palette for this bedroom theme. Add vintage textures and furniture: quilted material, vintage parlor chairs and a table, white-washed brick walls, or an old-fashioned chandelier. Print-wise, focus on checkers or stripes.
Coming to the décor, a neon sign or large ice cream parlor-like sign, a small striped awning, and framed photos or artwork featuring ice cream are all great to fit the ice cream shop bedroom theme. Apart from the latter, finding bedding and/or other objects featuring ice cream cones, cherries, sprinkles, and other relevant goodies can instantly bring the innocence and sweetness of an ice cream parlor into your daughter's bedroom. Overall, focus on keeping your daughter's ice cream shop-themed room quite vintage in appearance.
6 - Garden oasis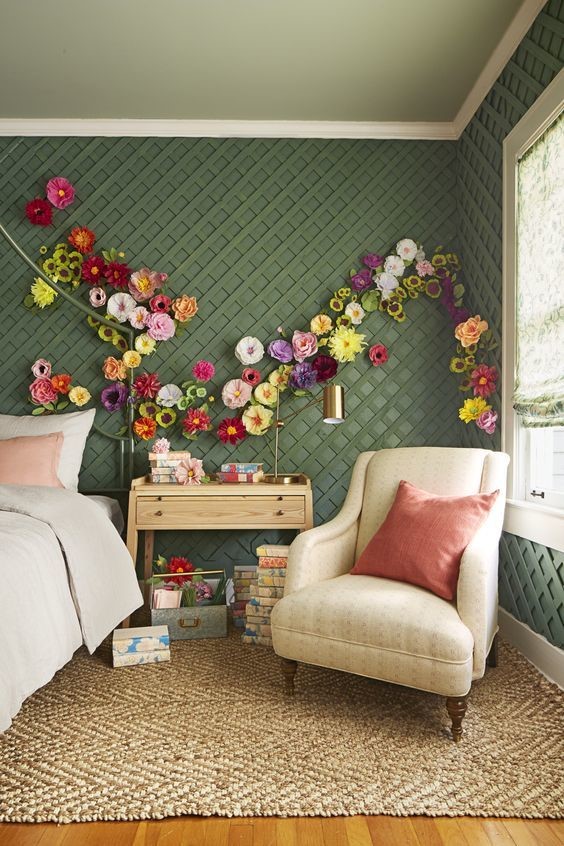 This last bedroom theme for girls is a little more sophisticated and mature, and thus, may be more appropriate for older girls. However, one can make playful modifications if they wish to create a garden-themed room for a younger girl. For a garden oasis theme, the colors to focus on would be green, brown, tan, and beige along with hints of brighter colors to resemble the color of a garden.
Suitable textures for a garden bedroom theme would include tweed, wood, burlap, and cork. Add butterfly or floral prints, artwork or photographs featuring gardens, or perhaps even garden tools to place on the walls (e.g., gloves, a hand shovel, a hand rake). Adding a decorative watering can, picket fence-like storage containers, fairy lights, succulents or houseplants (live or fake), a hung garden box on the wall featuring fake flowers, or a fake vased flower bouquet to the space are also great ideas.
Conclusion
While there's no shame in girls having simple-themed bedrooms merely featuring feminine colors and soft textures and prints, having a specific room theme can be fun to implement. Japanese cherry blossom, under the sea, vintage doll house, unicorn dreamland, ice cream shop, and garden oasis are all intriguing room themes that may peak the interests of many younger and older girls.
No matter your daughter's personality – quiet and sweet or lively and spunky – and regardless of their interests, there is a relevant bedroom theme for them. Although many feminine room themes may seem difficult or expensive to carry out, with the right creativity you can opt for your daughter's dream room theme on a budget without making the design process too complex.
If you need more interior or exterior design-related tips and tricks, check out the rest of our blog posts .
Recent Posts
Summertime is going strong and the heat is most certainly upon us. With triple-digit temperatures, k …

You may or may not know, Cocoweb started its roots in lighting. With LED lighting being our specialt …

Picture Perfect:The Art of Lighting Your GalleryWhen entering someone's home, your eyes are immediat …