Choosing the Perfect Pillows for Your Space
One of the most exciting parts of an interior design is picking out the décor and other little touches to pull the space together. This includes curtains, candles, artwork and framed photographs, rugs, mirrors, vases, throw blankets, and of course, pillows.
But when it comes to picking out pillows, it isn't always as easy as it may seem. There's a lot to weigh in: the color, texture and print, shape, size, and display of your pillows. That said, let's talk more about these to help you pick out adequate pillows for your interior design.
Color
One of the most difficult aspects of selecting the right pillows for an interior design is ensuring you're getting the right color(s) down. Not only do you need to find pillows whose color(s) you love, but you also have to ensure the color(s) will match or complement the rest of your space. Now, that's when it can get a little tricky.
Then on top of that, presuming you'll have multiple pillows on your couch, bench, bed, or other piece of furniture, you must make sure each pillow has colors that do not clash with one another.
But one thing to remember when picking out colors is to never get to match-y. That goes for both your pillows and within the rest of the colors in your space overall. You may, however, wish to go for a monochromatic color scheme with different shades of blue or different shades of green, for instance. However, most will gravitate towards complementary colors.
But picking colors that are already well-represented in your space as is, isn't the wisest thing to do. Sometimes your best bet is to select colors that are minimally available in your space in effort to bring them out more.
Texture and Print
Texture and print tend to play hand in hand with one another. For example, a zig-zag print may suggest movement or roughness while a floral print may suggest softness and delicacy.
Before picking a print, don't just choose something you love or something that stands out to you, choose something that you know will be important in your space. The right prints should offer both the visual and textural components your space lacks or needs more of.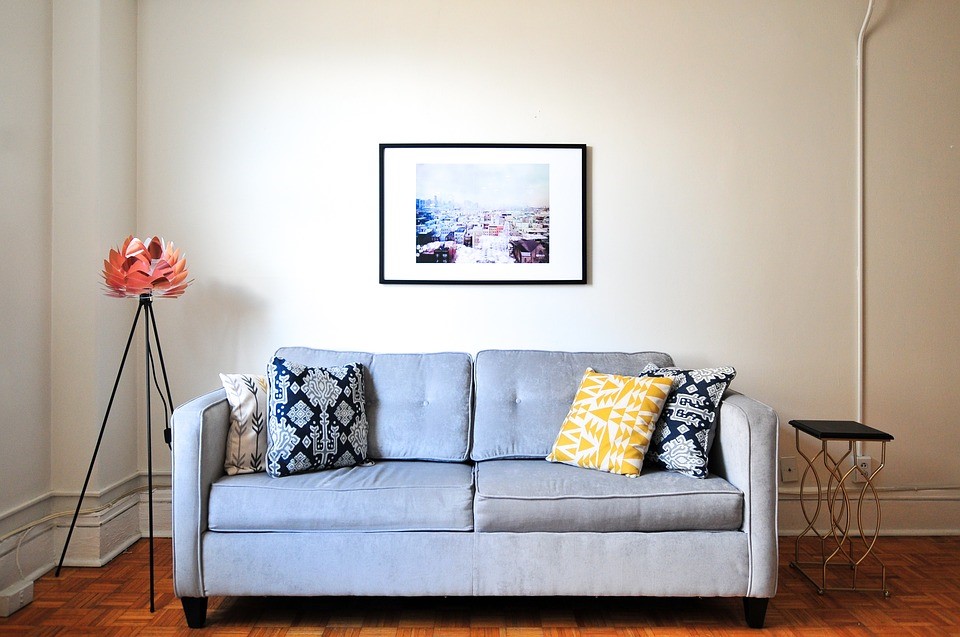 If you decide not to opt for prints and only choose pillows of different textures or materials, it is important to provide what your space requires. As an example, if your interior design offers mostly comfortable, soft textures in the form of plants, throw blankets, carpet, and so on, it'd make sense to opt for a pillow or few that offer a rougher texture (e.g., sequins, burlap). The reverse would be true if your space has mostly rougher textures already. If space is pretty bland, you may even enjoy adding highly-detailed pillows that feature ruffles or buttons or even ones with beautiful lettering with your favorite quotes or phrases.
A key point to remember is to provide a mix of rough and smooth (e.g., satin, silk) textures in your interior design for versatility. Never aim to make your space too uptight nor too comfortable. Balance is everything.
Shape
When pillows come to mind, some think of squares or rectangles. However, there are other pillow shapes out there that may also look flattering in your interior design, from circles to triangles.
For larger couches and big beds, you're going to probably want to provide different shapes. Typically, squared pillows are placed in the back or on the sides of furniture while circular or rectangular pillows are placed towards the center and/or front of couch or bed. However, if few pillows are present, these pillows may also be off onto the side.
While it is completely up to you to decide if you want to opt for pillows of multiple shapes, it is still, however, a great idea if you want variation and complexity in your interior design.
But before selecting the shape(s) of your pillows, keep the current shapes and angles in your design in mind. Does your space offer a lot of rounded-off objects, or does it feature mostly sharp angles and lines? Aim to provide the opposite when it comes to picking out the shape of your pillows in order to implement something different in your space.
Size
Size is another important aspect of pillows. Chances are, you're going to want a mix of different sizes: small, medium, and large. Aim for several pillows of the same size along with others of another size, especially if you plan on having four or more pillows present.
When picking out the size of your pillows, keep in mind the number and arrangement of your pillows you may wish to provide. You may wish to place a larger or small pillow in the center of your pillow display and larger pillows on the outskirts. In turn of knowing the arrangement you plan on creating, this will help you decide the sizes of pillows you should purchase.
But you don't want to go overboard selecting several larger pillows only to find out that your couch or bed can't physically accommodate them all. You also won't want to purchase just a few smaller pillows; you have to ensure your couch or bed is properly filled. That said, opting for different sized pillows is important and can be easier for you to decide how many you need in regard to how much space you believe your pillows will fill out.
Display
Now that you've picked out the perfect pillows, organizing them correctly is key whether you plan on placing them on a bed, couch, or other piece of furniture.
Play around with the number and arrangement of your pillows. Sometimes, but not always, less is more. When it comes to the arrangement, some may prefer to lean their pillows just on the sides of their furniture. Others may like filling up the entire piece of furniture with not just one but two layers of pillows to offer fullness. Pillows may be stacked one over the next, may just be lined up, or may even have a "focal point" to where equal numbers of pillow are on each side of the piece of furniture with a pillow or few clustered in the center. It's generally up to you to decide.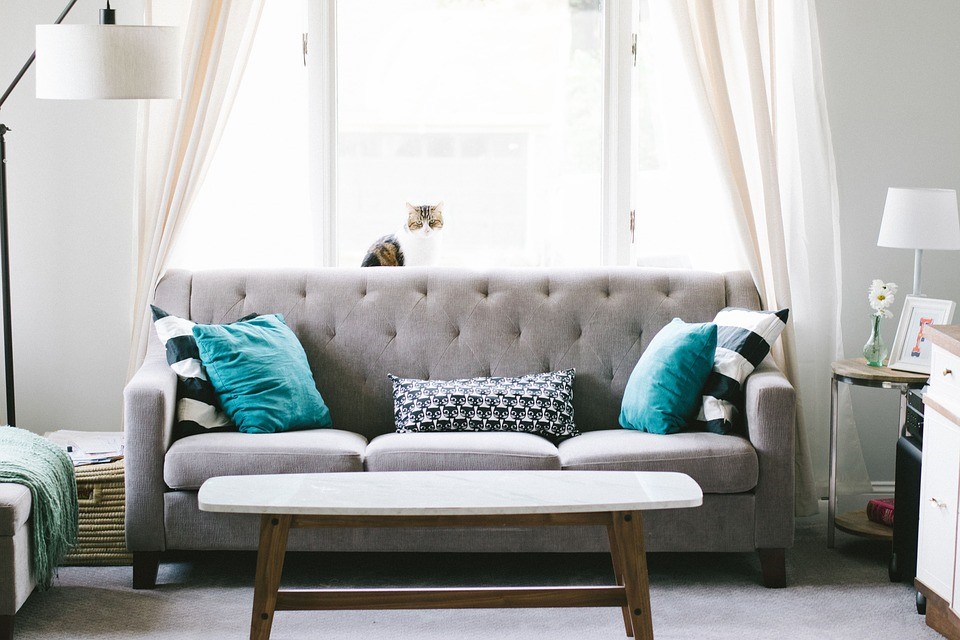 Even if you love the number and arrangement of your pillows, it doesn't hurt to try new things to just make sure you've achieved the perfect display. Play around with some pillows in the center and others on the outskirts. This can change everything. But in the end, you're going to want equal or odd numbers of the same pillows depending on how they are arranged.
Conclusion
Choosing the right pillows for your space is entertaining but not always as simple as it may seem. But taking our advice for picking out the right color, texture and print, shape, size, and display of your pillows can ensure you get the job done right the first time around.
Remember that regardless of our advice, it is important to pick the types of pillows you love and know will look good in your space. It isn't enough just to follow the current interior design trends; you have to use both your heart and head when choosing the right pieces for your space.
Need more interior design tips and tricks? Be sure to read more of our blog posts here on our Cocoweb.com website! We post multiple times weekly, providing you essential interior design and lighting advice.
Recent Posts
Summertime is going strong and the heat is most certainly upon us. With triple-digit temperatures, k …

You may or may not know, Cocoweb started its roots in lighting. With LED lighting being our specialt …

Picture Perfect:The Art of Lighting Your GalleryWhen entering someone's home, your eyes are immediat …