With 2019 now here, making and committing to resolutions is the primary goal for many. Some might consider losing weight or saving more money to be their most suitable goal for the new year. But regardless of how easy their resolution may be or how badly they want it, only about 8 percent of people actually achieve their New Year's resolutions, according to Forbes.
Because our Cocoweb team knows firsthand how difficult it can be to achieve your resolution(s), we're here to help you out a little.
While we can't help motivate you to go to the gym or eliminate the debt you've racked up over the years, our specialty is in lighting and interior design. That said, if all else fails, these simple interior design resolutions will be easy for you to accomplish and can be done quickly without much cost or effort:
1 - Incorporate more green to your design.
Although green is one of the most common colors in interior design, not every home incorporates enough of this Earth-y hue. Yet, green is one of the most relaxing colors. With the high stress and busy schedules many of our lives entail, it's important that we make use of green in our interior designs.
Green is an easy color to find and make use of in an interior design. It can come in the form of plants – real or fake. It might also arrive in the form of artwork, vases or pottery, wall paint, frames, candles, rugs, furniture, light fixtures, tile, fake decorative fruit, the list goes on.
2 - Add a new décor item to every room in the house.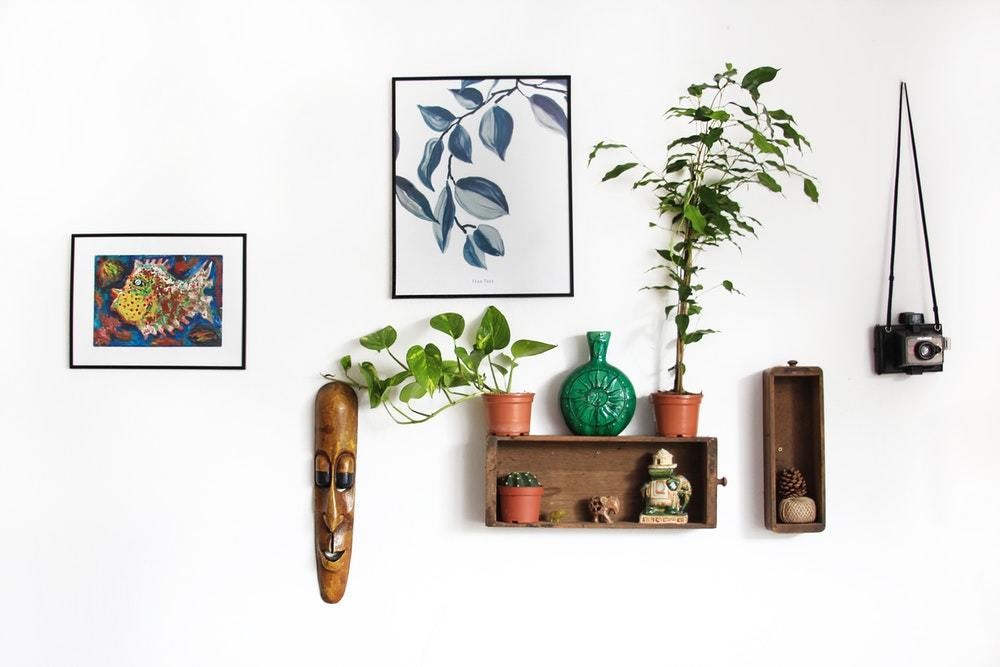 Whether your home currently has older décor or lacks the proper amount of décor, make it a resolution to opt for new décor in each room in your home. But before you presume that this will be an expensive process, know that adding just one new décor item to each room can be quite affordable and easy.
For example, maybe you'll add a plant to the bathroom countertop, a new piece of wall art to the kitchen, a new rug in the living room, new lamp shades in the bedrooms, and new candles in the dining room. You can make this process as affordable as your budget allows you to. Try shopping the clearance racks or at discount home goods stores if you're short on cash.
3 - Get new throw blankets and pillows.
If your goal for the new year is to learn to relax more, something as simple as adding new throw blanket and pillows to the chairs, couches, and beds in your home can make a big difference. These items can add both visual and physical comfort, followed by mental and emotional comfort.
If you enjoy the current throw blankets and pillows you have, maybe instead of swapping out these items completely for new ones, you might consider simply adding a few new ones alongside your current ones.
You might also like the idea of switching out your pillows and throw blankets depending on the season. For instance, maybe you'll have dark blue and gray pillows and a lighter blue throw blanket on your living room couch in the winter and then swap these out for orange and yellow pillows and a less-heavy, white throw blanket when spring rolls around.
4 - Swap some décor from one room to another.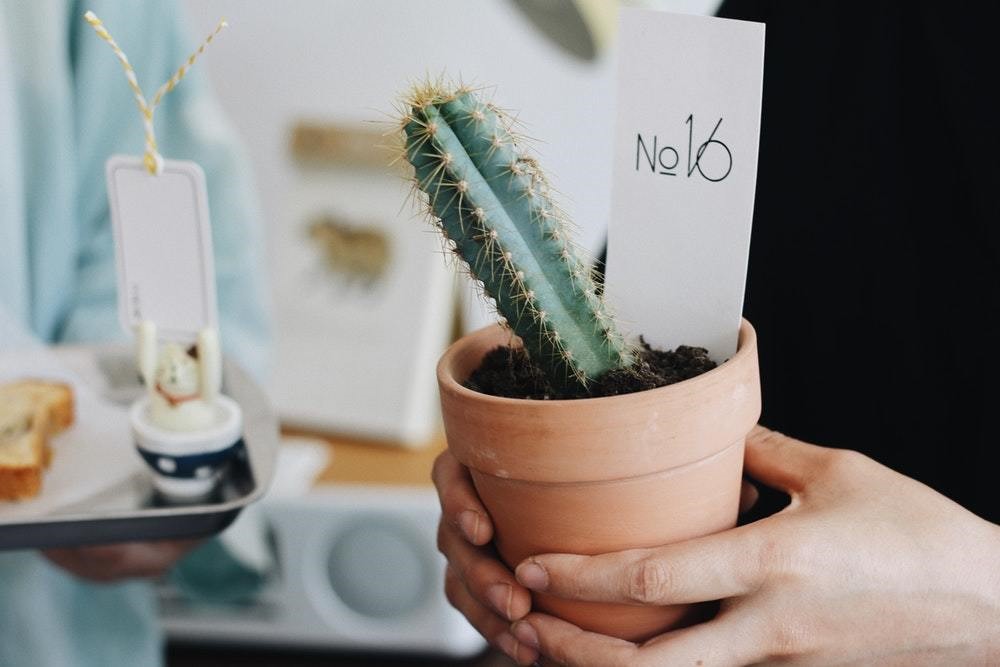 Sometimes it's not always that the décor in our space needs to be eliminated completely as it gets older and we get bored of it. Maybe it's just that it needs to be placed in a new environment to become its best self.
That said, if you're tired of looking at a certain décor item, try placing it in another room first before you decide to completely get rid of it. With a different perspective, the décor item may be more suitable for its new space, and thus, may better be able to be enjoyed and appreciated by you. Apart from switching a décor item to a new room, you might also wish to leave the item in its current room but switch up its arrangement or place it at the opposite end of the room.
5 - Improve the lighting in your home.
Getting enough light is crucial for many aspects of our health. Yet, most of us spend the majority of our days indoors whether we are working, in school, or stay at home. While man-made, even some types of artificial lighting can boost our vitamin D levels and trigger our circadian rhythm – which is crucial in the wintertime when the amount of daylight is reduced.
Considering the latter, a great interior design resolution is to improve the lighting in your home. You can do so with quality wall, ceiling, table, or desk light fixtures. If you have greater room in your budget and don't mind the longer installation process, your home might be a good candidate to have new windows installed to let the natural light better flow through your home.
If you currently have thick blinds and/or heavy curtains on your windows, you might even consider swapping these out to welcome in more illumination. Even a tree trim near your windows can bring in more lighting.
6 - Repurpose an old piece of furniture.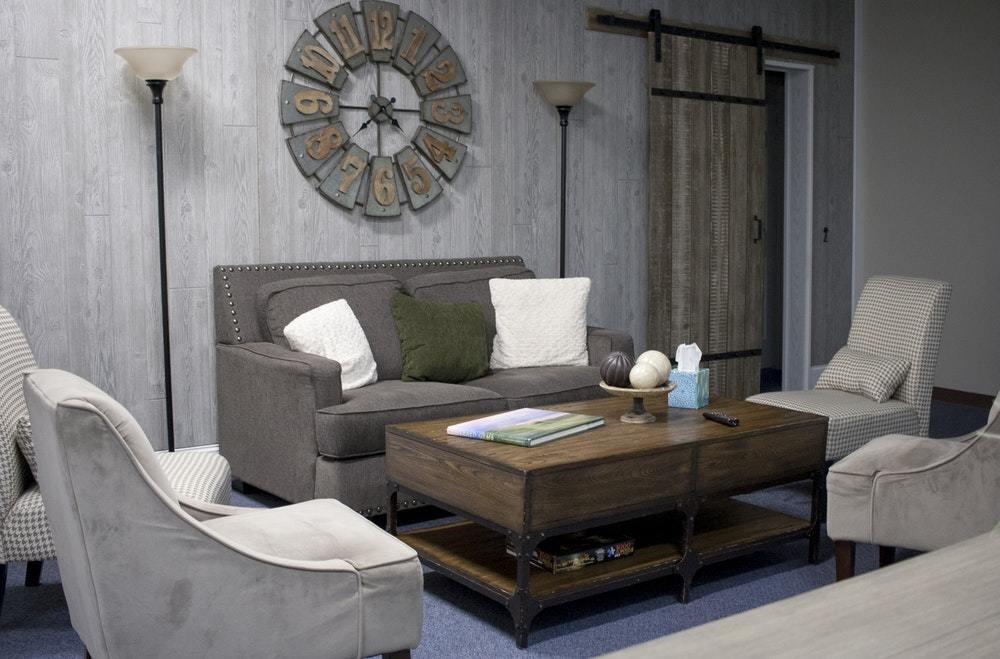 Not everyone immediately gets rid of old furniture when they no longer have the use or space for it. If you have old furniture tucked away in your basement, attic, or storage unit, consider how you might repurpose it in your interior design before considering letting it go for good.
If you have an old bookcase but don't own enough books to fill it up or simply don't wish to use it for its usual function, this bookcase can be turned into storage for magazines, DVDs or video game discs, shoes or accessories, folding clothing items, beauty or bath products, or even just general décor. If you must, sand, repainted, fix, or completely revamp your old furniture to make it work for your current interior space and the function you wish to get out of it.
7 - Get rid of the clutter.
Decluttering the home is a bigger step than some of the latter but nevertheless is a great interior design resolution for the new year. Decluttering is beneficial for the aesthetic and functional components of your space. As a bonus, you'll find that as you declutter your home that your mind will also be decluttered. This means a more relaxing you will be created as a result of physically decluttering your space.
To rid of clutter, focus on one task or one section of one room at a time. For example, if you're decluttering your bathroom, you might start by decluttering in one corner of the room before moving clockwise (or counter-clockwise) around the room. You might even want to focus on a certain area like a certain drawer or cabinet. In some cases, you might prefer to declutter items in your space based on type (e.g., bath products, hair products, bathroom linens) rather than location.
Conclusion
When it comes to New Year's resolutions, we often focus on improving ourselves directly – losing weight, ridding of old debt, learning to be more selfless, and the like. However, making resolutions pertaining to bettering our interior design can be a great way to indirectly change and improve our lives.
Fortunately making interior design resolutions is often more affordable, easier, funner, and less time-consuming that some of the other resolutions we may initially come up with.
Little things like incorporating more green in your home, adding new décor, getting new blankets and pillows for added comfort in your space, swapping décor from different rooms, improving the artificial lighting in your home, repurposing old furniture, and eliminating clutter are all great interior design resolutions to get you started.
If you need more interior or exterior design-related tips and tricks, check out the rest of our blog posts .
Recent Posts
Modern farmhouse decor is becoming widely popular across the world and is loved for its versatility …

Summertime is going strong and the heat is most certainly upon us. With triple-digit temperatures, k …

You may or may not know, Cocoweb started its roots in lighting. With LED lighting being our specialt …