In interior design, trends come and go. Some stick around for years while others seem to disappear at virtually the snap of a finger. Regardless of how long a design trend is projected to last, following the latest crazes can be a blast.
Even cabinets and countertops go in and out of style. This becomes apparent when we walk into an old kitchen; we immediately spot that the colors, materials, and general style simply do not match up to what everyone is currently raving about. However, if anything, the style of countertops and cabinets are some of the most important things in a kitchen – apart from appliances.
While not everyone will the have time, energy, money, or even desire to switch out their kitchen cabinets and/or countertops for 2019, if you just happen to be remodeling your home or moving into a new home, you just might be interested in following the latest trends.
Ditch the solid-white kitchens and subway tile in 2019, and instead follow these cabinet and countertop trends:
Cabinet Trends
1 - Stained wood cabinets
If your taste is a little more traditional, or if your home is currently rocking a more traditional or contemporary design, going for stained wood cabinets – particularly in a gray or darker brown – might be your go-to choice. With the right stain, the natural grains in your wood cabinets will shine right through. Among all cabinet trends on this list, stained wood cabinets are one of the most versatile and will be trendy for many years to come.
2 - Two-toned cabinetry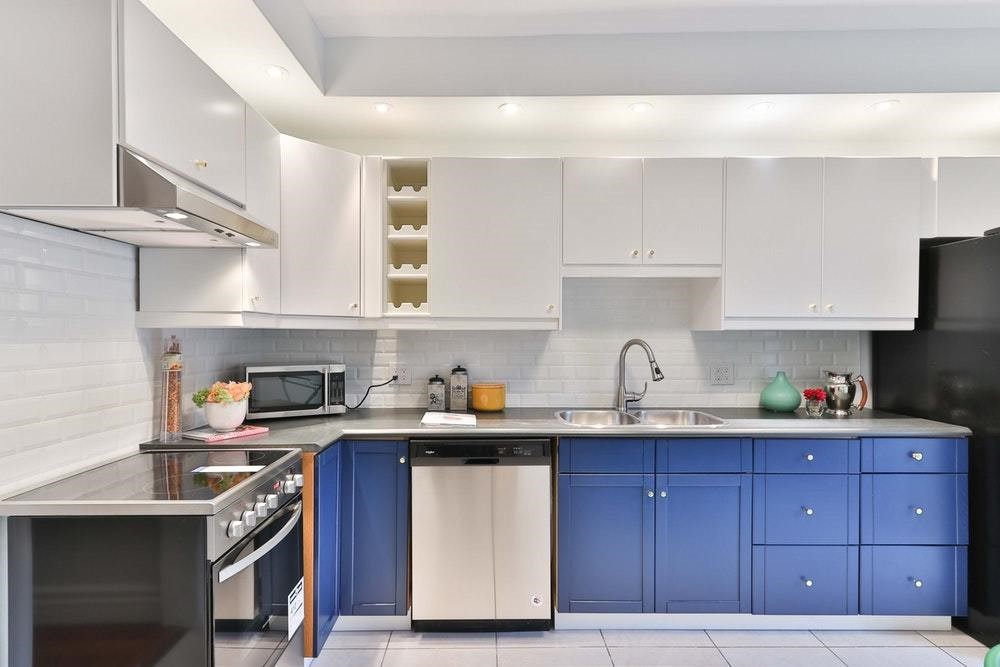 If you want to take a walk on the wild side without going borderline, opting for two-toned cabinets might be the right trend for you to follow. You might wish to have alternating colors on just your top cupboards or even have your top cupboards one color while your bottom cupboards and drawers feature a different color, as shown in the above image. You can choose a monochromatic color scheme or go for a neutral and a bright pop of color.
3 - Matte black cabinets
No longer are white cabinets the holy grail in the new year. Black is back! However, not just any black cabinetry will do; matte black is big for 2019. The lack of sheen matte black cabinets offer is not only clean, simple, and modern but also allows one to play around with shiny accents throughout the space. Offset your matte cabinets with a quartz countertop and shiny gold and copper accents – light fixtures, sinks, backsplashes, etcetera.
4 - Open shelving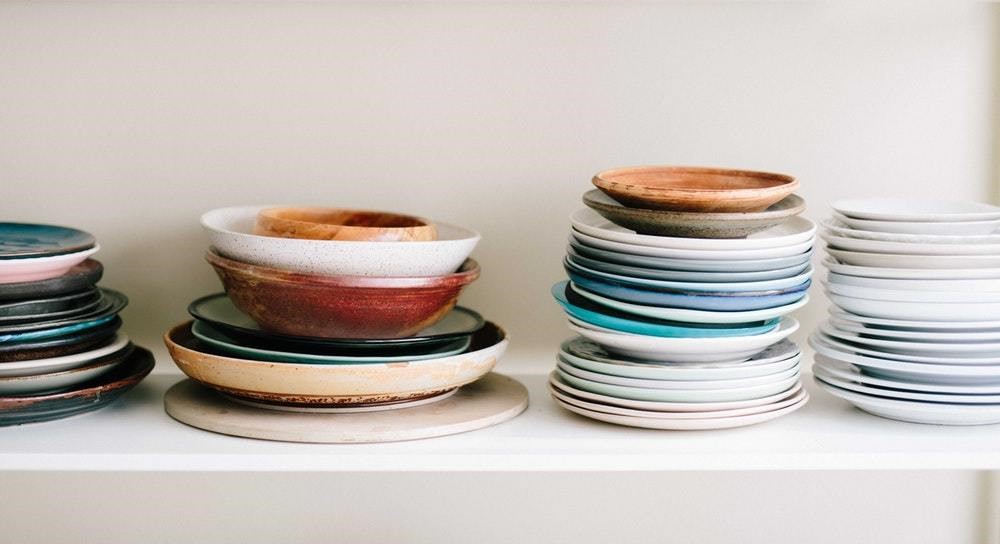 With the wide-range of styles, colors, prints, shapes, and sizes of dinnerware (e.g., cups, plates, bowls) available, showing off what your cabinets hold can be beautiful and playful. With open shelving instead of regular cabinets, you can do just that. If you have pets and/or young children in the house, best advice is to ensure just your top cabinets feature open shelving, leaving your bottom cabinets and drawers with traditional doors.
5 - Glass front cabinets

If you want to play peek-a-boo in your kitchen while being a little more discrete than having open shelving, opting for cabinets featuring glass doors is a viable consideration. Glass front cabinets are obviously not new in the world of interior design. However, many homes if they have glass front cabinets at all only have one or a few in their kitchen with the rest of their cabinets featuring traditional, non-glass doors. But in 2019, don't be shy having all of your cabinets featuring glass fronts, even if it's just a little glass peephole.
Countertop Trends
1 - Concrete
Who said you had to opt for granite countertops? If you enjoy something rustic but still Earth-y, going for concrete countertops can be a simple and clean way to get beautiful, sturdy countertops. Concrete countertops are basic enough to where they can meld beautifully in different interior design styles from modern farmhouse to minimalistic. Best of all, the textures, colors, and finishes available for concrete countertops is heavily versatile. Even the shape of your concrete countertops can be easily be constructed as necessary no matter how awkward the angles in your kitchen.
2 - Quartz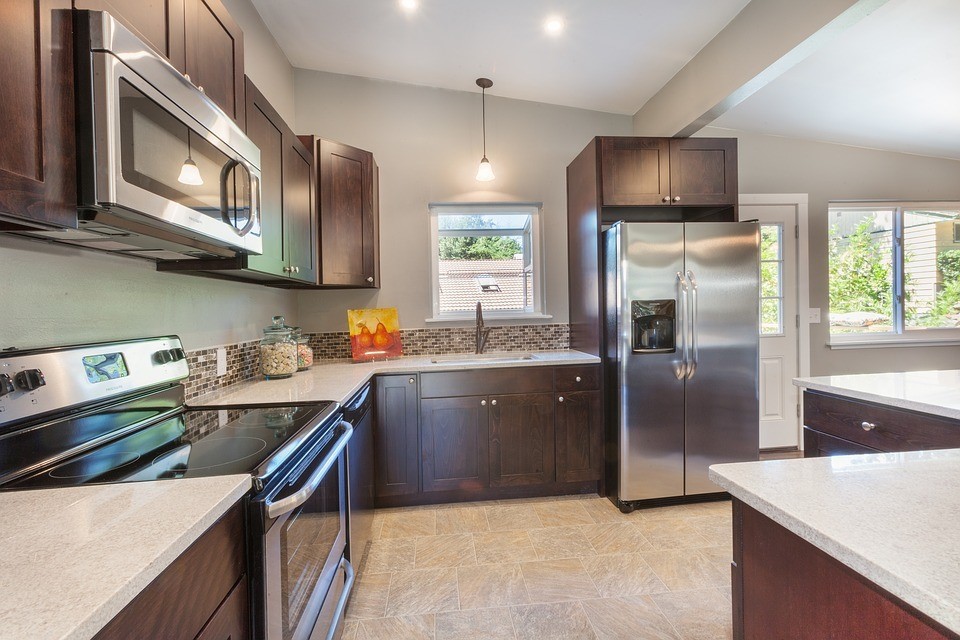 Good news for those who already have it in their kitchen, quartz is still in for 2019. This material is not only beautiful in a handful of kitchens; it's also incredibly sturdy, making it one of the best materials for your kitchen countertops in the long-run. Plus, like granite, piping hot pots, pans, and dishes can be placed directly on quartz. While quartz countertops are not cheap, their convenience, beauty, sturdiness, and longevity make them a great pick for the kitchen. They add a clean touch while offering a little glitz and glam in the process.
3 - Terrazzo
Terrazzo has been an interior design for a while; however, terrazzo is also going out of style – for now. But rumor has it that terrazzo countertops will be staying in 2019! While trendy, some find that terrazzo is a little too colorful or too textured for their space. But others love the tiny specks – some of which feature fun colors like blue or red – that terrazzo has to offer. Consider terrazzo countertops if your kitchen is mostly neutral and would benefit from a healthy dose of color. You might wish to pick terrazzo whose base features color but has neutral-colored specks, or you might prefer picking terrazzo with a neutral base and color specks.
4 - Reclaimed wood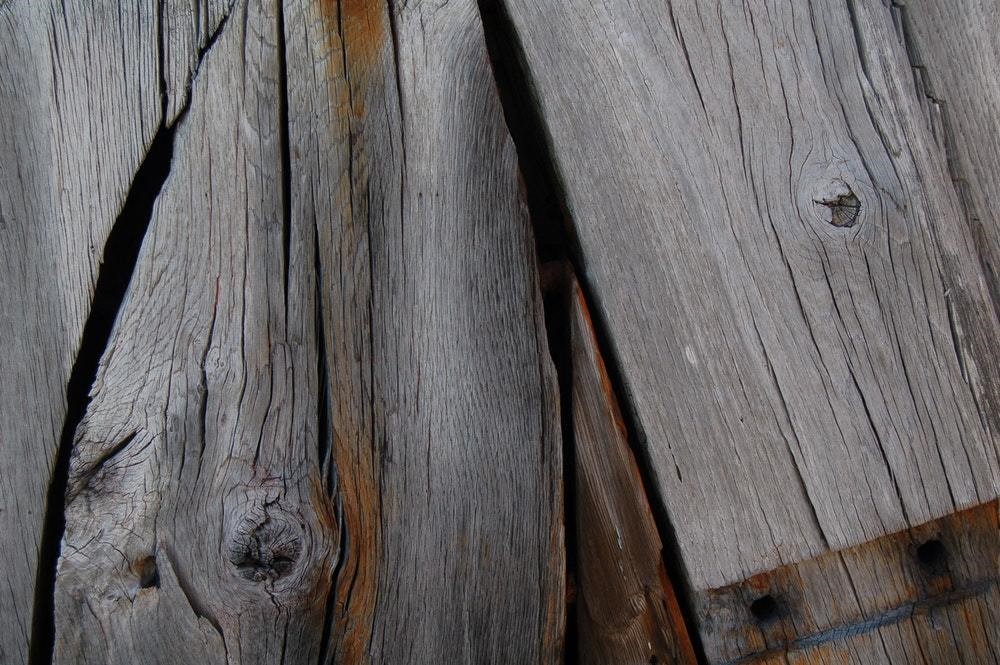 If you're into an industrial, natural, or farmhouse style of interior design, reclaimed wood countertops might peak your interest. The simplicity offered by reclaimed wood countertops is attractive for many. Not only do reclaimed wood countertops have great aesthetics, but they are also eco-friendly considering 1) wood is renewable, and 2) reclaimed wood countertops are, well, reclaimed meaning that they are not constructed with freshly-cut wood but with old wood planks.
5 - Veined countertops
No matter the material you prefer your kitchen countertops to be, choosing countertops with a veined design will certainly be trendy in the new year. Winding, vein-y designs on countertops are fun, look great in any style of interior design, and help add character to your home considering that no two countertops will feature the exact same veined appearance, that is, if the veined design on your countertop is nature-made. A veined texture on your countertops can also help add contrast or color to your design.
Conclusion
If you're looking to freshen up your old cabinets and/or countertops in your kitchen in the new year, there are numerous trends you might wish to follow – especially if your kitchen is currently rocking an all-white design. From stained wood cabinets to reclaimed wood countertops, there's a trendy cabinet and countertop style for everyone out there.
When picking out your new countertops and cabinets, not only make sure the color(s), texture, and general aesthetics match up to the rest of your space but also merge with your personal interior design style. Picking out elements in your interior design isn't just about selecting what's hot but also ensuring it suits both you and your home. Choose wisely. But in the end, be bold and be brave. Don't be shy going for two-toned, dark-stained cabinets, veined countertops, or even open cabinetry.
If you need more interior or exterior design-related tips and tricks, check out the rest of our blog posts .
Recent Posts
Modern farmhouse decor is becoming widely popular across the world and is loved for its versatility …

Summertime is going strong and the heat is most certainly upon us. With triple-digit temperatures, k …

You may or may not know, Cocoweb started its roots in lighting. With LED lighting being our specialt …