Everyone has their own design style. But if urban design suits your tastes, you might be familiar with midcentury modern. While this design movement was first popular around 1945 to 1975 during urban development, this is very trendy to this day.
But because midcentury modern is, well, not modern in today's book, this is where design can get a bit tricky. In order to pull this interior design style off, you pretty much have to take a blast to the past.
Without making things too complex for you, we've put together some tips on completing your midcentury modern design beautifully in your space. Follow the below tips, and your space will be stunning in no time!
1. Add inspirations from nature.
With midcentury modern design being popular in urban homes and apartments back when it first came out, it makes complete sense why inspirations from nature would be important. While you may not live in an urban region yourself, the idea back when midcentury modern was a new movement was that living in the hustle and bustle of a quickly-developing city meant that need for something more peaceful and natural in the actual home environment.
That said, use an Earth-y color scheme, add plants and succulents to your space (you may add fake ones if you prefer), add pillows featuring feathers or leaves in its design, the list goes on. There are many ways you can make your "urban" midcentury modern design a little less urban and a little more organic. Balance is key.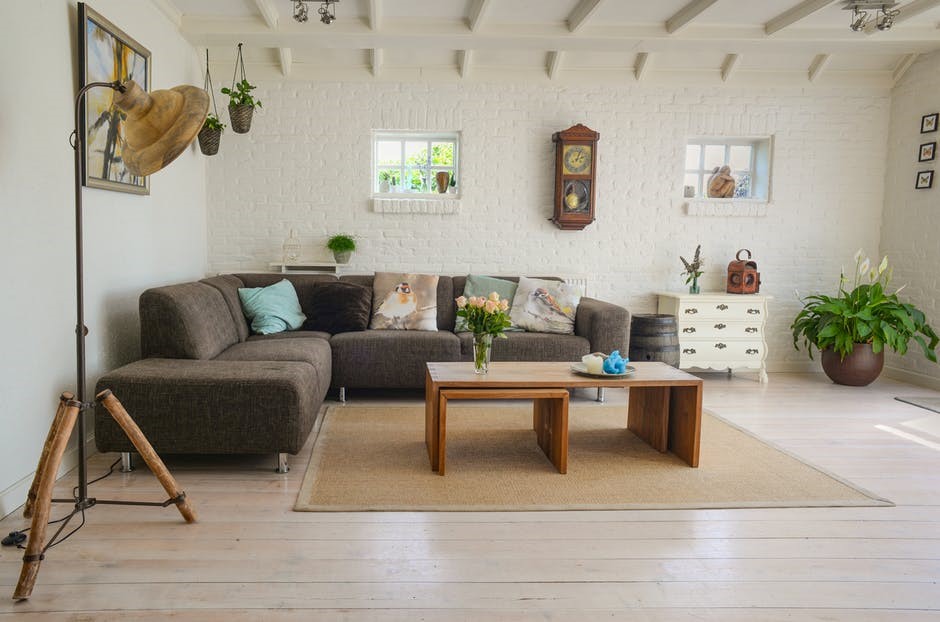 You can decide how many natural elements you want to utilize; it's your space. Some like to have hanging plants, a succulent arrangement on the window seal, and a large fake tree in the corner. But if you're not too keen on too much green, you don't have to add plants at all to your space. You may wish to achieve Earth-y elements just through color, texture or pattern, or material alone.
2. Incorporate basic forms and shapes.
Modern in general tends to be all about shape and formation. As for midcentury modern design, the same is true. Basic shapes such as squares, rectangles, triangles, circles, and ovals tend to be important aspects in a midcentury modern design. Angles are additionally integral, along with sharper edges and lines.
But the great thing with shape and formation of your design's elements is that you have a lot of power over this. Some don't like to use too much line or angles in their midcentury modern design because it tends to appear uncomfortable or serious. In a home setting, you may prefer to opt for more circular figures; this is okay too.
Some prefer to go a little less simple and more "wild," if you will. Some patterns they may wish to incorporate may include the following:
Fish scales
Fish
Chevron
Diamonds
Herringbone
Dandelions
Leaves
Feathers
Simple floral (nothing too detailed)
Quatrefoil
Abstract patterns with shapes and lines
Overlapping shapes and colors
How bold you go with the materials and textures you opt for is up to you. But generally, there isn't an abundance of texture going on in midcentury modern designs. Try to keep it on the simpler side. Mix very plain or basic textures with one or two that are more "loud" – but not too loud. Old-fashioned or Earth-y prints are typically key.
3. Don't overdue the colors or materials.
Some people love color with a passion, and thus, they will make color a main element in their design. Others find that the more materials they incorporate into their design, the better. But remember that more is not always better; too much can be overwhelming and take away from the overall design itself. Especially with a midcentury modern design, remain cautious when it comes to both color and material not only in what you pick but how much of it you use.
Colors in a midcentury modern design often include:
White
Beige, tan, and other browns – usually softer in shade
Yellow gold
Blue seafoam
Aqua
Gray
Greens (e.g., olive, wasabi, etc.)
Tangerine
More than anything, try to keep your color choices more conservative and Earth-y. A splash of color, however, never hurts. Just do it correctly. One way to ensure you do this is to only use brighter colors (oranges, yellows, aqua, etc.) for accents – not for tables, furniture, walls, and the like.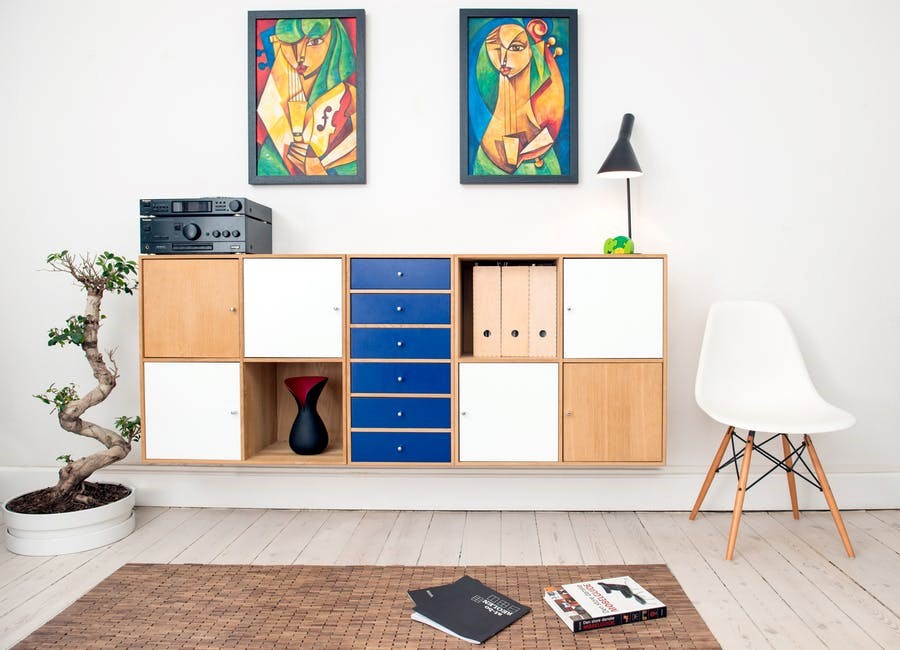 Coming to material, you'll also want to be cautious with the choices you pick and how much of it you utilize it. However, this tends to be a general rule for all interior designs. Material, if overused, can be overwhelming for the eyes if there is too much to see or too intense of materials present.
Consider adding these materials to your midcentury modern design:
Different types of wood
Steel
Stucco
Aluminum
Twine
Burlap
Glass
Through your use of material in your midcentury modern design, opt for unfinished materials as well as contrasting stains. But remember to complement materials, not clash or be too match-y. Overall, try to keep your use of materials more natural and not overly obnoxious.
4. Stick to a more minimalistic approach.
When midcentury modern design first came out, it was intentionally geared towards small space living in urban districts. But even if your space is not small, treat it like it is as midcentury modern design tends to be more careful with space and very clean. That said, don't overthink your design too much.
Many midcentury modern designs offer slim-legged tables, long and narrow couches, and just a few decorative items here and there – not enough to give you a massive headache when looking around the room. Modern interior designs tend to be cleaner and more functional in that sense as is; midcentury modern design is no different.
To be conservative with space in your midcentury home, also consider adding thinly-framed photos or pieces of art, recessed lighting or pendant lights , narrower seating (not necessarily tight or too small), and a variation of heights. Using alternating heights in a design is not only playful to the eyes; it also can signify directional change and minimalism as different heights are incorporated.
Conclusion
While midcentury modern interior design is popular, it's still not the easy-to-implement design movement that some people expect it to be. There are a lot of components that make it not only unique but also tricky to accomplish in some areas. But fortunately, with the latter tips, you will be able to achieve a midcentury modern design virtually effortlessly. A key trick to remember is to not use too much of anything: color, texture or material, or even space. Keep things light, air-y, and earth-y.
But if anything, lighting seems to be the most troubling part of a midcentury modern space. It seems easy to pick out light fixtures, but there is a lot to take in: the color, material, shape, big, and general appearance of a fixture – and not the mention, the price.
At Cocoweb.com, we have plenty of light fixtures in both vintage, contemporary, and modern styles and colors. If you want something rustic like a barn light, a sleek and modern picture light , or midcentury pendant light, we've got them all.
Recent Posts
Summertime is going strong and the heat is most certainly upon us. With triple-digit temperatures, k …

You may or may not know, Cocoweb started its roots in lighting. With LED lighting being our specialt …

Picture Perfect:The Art of Lighting Your GalleryWhen entering someone's home, your eyes are immediat …