Sometimes upgrading the kitchen is a must, not just to ensure your kitchen contains the latest interior design trends and modern touches, but also to merely freshen it up a little after it's been kept the same over the years. There's a good chance that if you've been living in your home for several years that your kitchen still contains its original cabinetry, backsplash, lighting, or kitchen faucet. For that reason, you might be more than ready to make some big changes to your cucina.
However, when "kitchen upgrade" or "kitchen renovation" come to mind, many think of the hefty work load and heavy expenses that come with buying brand new cabinetry, appliances, and flooring. Thus, making changes to a kitchen can seem quite intimidating; some may even consider it a major threat. However, does a kitchen upgrade really have to be super expensive? Is there an easy, less time-consuming way to amp up your kitchen without having to hire a professional to do the job for you?
Fortunately, our Cocoweb team has come up with a list of things you can add to or change in your kitchen in a matter of hours or even minutes, all without tearing a massive, gaping hole in your wallet (or your kitchen walls).
1 - Reflective Backsplash
If your kitchen is lacking some shine, one of the best ways to add a little glitz and glam to your space without engaging in a dreadful, month-long project is to install a reflective backsplash. You may opt for a backsplash that is permanent or is removable (stick-on), depending on your personal preferences. Your backsplash can have a mirror-like finish, or it might just feature subtle sparkle. Reflective or sparkly backsplashes can be multi-colored or might just feature one hue. Regardless of your pick, a shiny backsplash can bring aesthetic value and formality to your kitchen in no time!
2 - Decorative Dish Display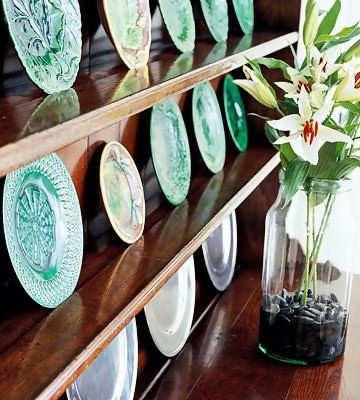 Have attractive, fancy dishes but don't know what to do with them (besides dine with them when you have company over)? Show them off! Featuring a decorative dish display in your kitchen is a quick and seamless way to add sophistication and easy aesthetics to your kitchen. While decorative dish displays aren't trendy nor are they common in the modern kitchen, they are versatile, timeless, and make for a great feature that will set your kitchen apart from the average kitchen today without making your design look outdated. Simply display the dishes of your choice in slotted plate racks, individual plate racks, open shelves, or in transparent or door-less cabinets. Go for clean, white plates or even multi-colored dishes, depending on your preferences.
3 - Colorful, Rustic Barn Lights
When someone wants to add color to their kitchen, their first instinct would be to add a bowl of fake fruit or a vase of faux flowers to their space. But if you really want to dramatically change the appearance of your kitchen, you can add gorgeous color to your kitchen with trendy, rustic barn lights. The finishes barn lights might come in can range from a bright, cherry red to a calm, ocean blue. Barn lights can feature various materials, features, and even different neck and shade styles. Finding the right barn lights within a reasonable budget can seem difficult. However, at Cocoweb.com, we have a wide array of attractive barn lights for any indoor or outdoor kitchen space.
4 - New Switch Plates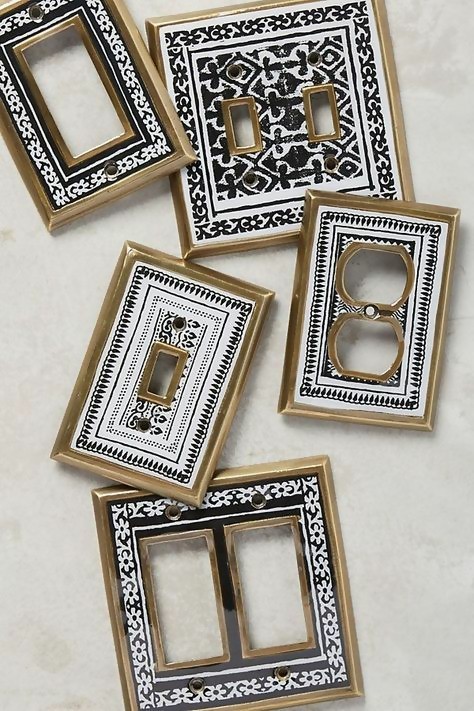 Are the switch plates in your kitchen yellowing overtime? Maybe they're inched with cooking grease or possess an ugly crack or chip. Or maybe you just don't like the color or design of your switch plates the way you used to, or maybe you just feel it's time to trash your old switch plates for opt for modern, more suitable ones. Either way, opting for new switch plates in your kitchen can be a small yet pretty significant change for any kitchen. Instead of boring, plain white switch plates, perhaps you'll upgrade them to fancy, metallic plates or plates with special details like a fun border or pattern.
5 - Bar Stools with Tailored Slipcovers
Having a kitchen that lacks space but requires more seating can be quite problematic. However, adding bar stools to your kitchen can easily double the amount of seating you have available without forcing you to sacrifice too much of your space. Bar stools are a great way to add height and versatility to your kitchen's design. But if you already have bar stools or want to amp up the bar stools you plan to add to your kitchen soon, we suggest adding fun-printed or colored, tailored slipcovers over each seat just to add a little something extra to your kitchen. This can be one great way to add extra elegance, texture, print, and/or color to your space.
6 - Fabric Lining in Transparent or Open Cabinetry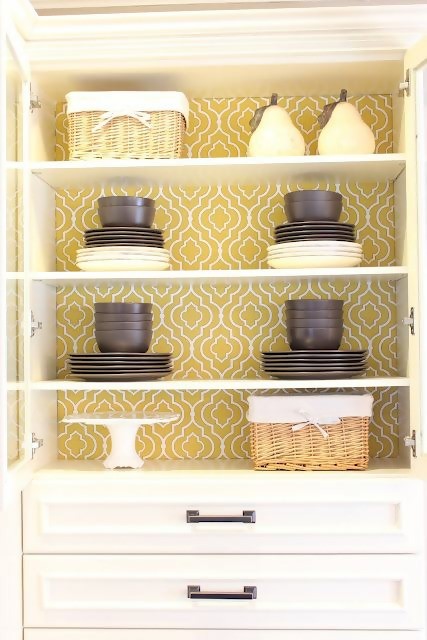 If you have transparent or open cabinetry in your kitchen, or are planning on adding such soon, you can take it to the next level by lining it with gorgeous fabric or wallpaper just to add a splash of texture or color to your interior design. (You may also add fabric lining to regular cabinets as well; however, the fabric won't show until you open up your cabinets, which tends to defeat the purpose of adding such a feature to your kitchen.) If you already have the right cabinetry, lining your cabinets with fabric or wallpaper is virtually effortless, that is, once you already picked out fabric or paper with the right color(s) and/or design for your space.
7 - New Hardware
Sometimes it's not your kitchen cabinetry that has to be completely scrapped and replaced but the hardware your cabinets and drawers feature. Knobs and handles might seem like very basic features for any interior design, but believe it or not, some folks find old, unattractive hardware – no matter how tiny it is – a deal breaker and feel they must update them immediately. As tedious as that might sound, hardware can certainly transform your kitchen cabinetry, and thus, the rest of your kitchen space. For instance, switching the black knobs on your dark wooden cabinets to a bright, light silver can instantly add drama, sheen, and contrast to your kitchen.
Conclusion
When it comes to our kitchen, we tend to spend the most money on upgrading and renovating it more than any other room in our home. However, a kitchen upgrade can also be the most expensive, even if we only switch out or add a few new things. Just swapping out a couple of appliances can cost quite a bit more than we might be able to afford right off the bat. But on the bright side, you can revitalize your kitchen in a short period of time without the need to spend thousands of dollars.
Some ideal things to add to a kitchen to make it more presentable include a reflective backsplash, decorative dish display, rustic barn lights, new switch plates, bar stools with tailored slipcovers, fabric lining in transparent or open cabinetry, and new hardware for cabinets and drawers. With some of these stunning upgrades, your kitchen will be fresh, fun, and modern in a pinch!
If you need more interior or exterior design-related tips and tricks, check out the rest of our blog posts.
Recent Posts
The much anticipated season of the year evoking memories of fireworks lighting up the sky, lighte …

As the days grow longer and the mercury rises, thus begins the time of the year for backyard soir …

An evening spent enjoying wine and pasta al fresco beneath the night sky, to a lively brewery in …